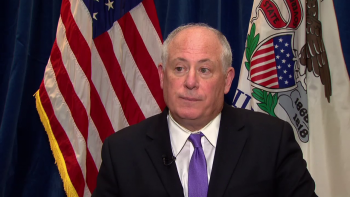 Gov. Pat Quinn signed the Chicago pension reform bill that cuts benefits from the city's municipal and laborer employees, and increases employees' contributions. There's a combined $9.4 billion deficit, and Quinn has left it up to the city to figure out how it's going to be funded. Elizabeth Brackett sits down with Ald. Brendan Reilly, Ald. Michele Smith, and Ald. George A. Cardenas to find out how they plan to come up with the money.
The current Chicago pension law is the result of an accord struck by the mayor and 30 unions representing city workers in two of the four pension systems – municipal and laborers. Some prominent changes include retirement age, and annual adjustment calculations.
The law gradually ramps up employee contributions from 8.5 percent to 11 percent. It reduces yearly cost of living raises, and skips them in three separate years. The bill comes with an initial $250 million price tag over five years, with property taxes not being part of the mix in at least the first year. That means the revenue issue will be taken up once all city and state elections are over. Read the bill passed by the General Assembly here.