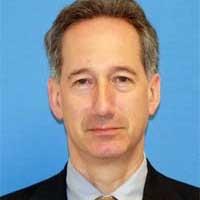 Mayor Emanuel says he's struck an accord with the City's Inspector General, Joe Ferguson, with whom he has been at odds with on a host of issues.
"He's been a partner, I've asked him to stay on and he has agreed," said Emanuel, citing Ferguson's role in helping the city get out from underneath the federal Shakman decree on political hiring, and making sure the city stays compliant.
Ferguson is seven months into his new four-year term as the top city watchdog, but there were earlier indications he would only stay a few more months. Today's comments from the mayor indicate Ferguson has agreed to serve at least the remaining three-plus years of his tenure.
"Joe has a role. He's a partner at dealing with finding reform, efficiencies, dealing with fraud and waste," Emanuel said. "We have a very good working relationship."
The mayor's comments today signal an apparent change of heart from comments he made a year ago. Last year, the mayor said he had decided to reappoint Ferguson to another four-year term as inspector general which began in November, with the understanding that Ferguson would leave his post by this summer. Previous to that, the mayor, in a slight to Ferguson, had said he wanted a blue-ribbon commission to choose the next inspector general, with Ferguson free to apply as a candidate.
The newfound détente between the mayor and the city's top watchdog comes after sometimes bitter and public feuds. In April of last year, Ferguson called out the mayor for refusing to cooperate with investigations and blocking his attempts to subpoena documents, and that it was reinforcing "deep seated doubts" about Chicago politics and corruption. Ferguson had asked the Illinois Supreme Court to give his office the authority to enforce subpoenas, but was unsuccessful.
"The Mayor and his Corporation Counsel can cut off access to the evidence needed to definitively determine who, or what, is responsible for possible waste, fraud, and abuse in City government," wrote Ferguson at the time.
Ferguson also blasted the City's Commissioner of Streets and Sanitation for refusing to cooperate with an audit of the city's new grid-based garbage collection system, cementing deep-seated doubts that the program was really saving the $18 million per year the mayor had claimed.
The mayor's comments, which aired on Chicago Tonight as part of a full half-hour interview with Phil Ponce, show barely a trace of the enmity that has historically characterized their relationship.
"There are things we agree with and will implement fully, things we'll take suggestions on," the mayor said.
A spokesperson for the Inspector General's office was not immediately available for comment.