Geoffrey Baer visits the John Hancock's Crown of Lights to find out how the Hancock Building makes its seasonal lighting wardrobe changes in this week's edition of Ask Geoffrey. He also sheds light on the infamous shadow casting sculpture in Hyde Park and explains why some city roads have both a street and a place.
How long does it take to change the lights at the top of the John Hancock Building? It seems to take a several days. What is involved in changing the lights from one color to another? 
Trish Holland, West Loop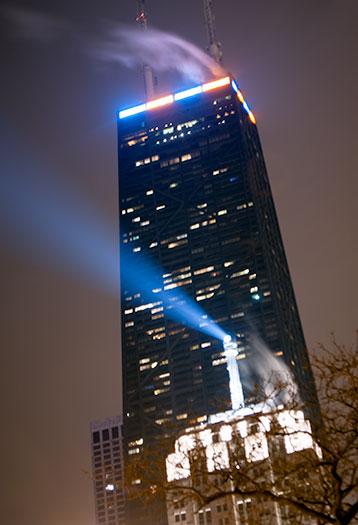 One of the Hancock Building's most recognizable features is what's called the Crown of Light at its very top. The crown was originally white all year round, but in recent years the color of the crown has been changed from time to time to celebrate holidays, seasons, support charities and of course, wear the colors of Chicago sports teams.
The Crown of Lights is comprised of 552 eight-foot-tall fluorescent tubes mounted in cabinets up against the windows that ring the 99th floor. The color changing process is pretty simple – building engineers climb to a 99th floor catwalk, remove the flourescent tubes, slip them inside colored plastic sleeves, and replace them.
Changing the color of all 552 tubes takes some time – about 40 hours for two building engineers. It's all done from inside the building, so there's no danger of falling, but changing the color in the summertime does pose an occupational hazard. Hancock Chief Engineer Bill Casey told us moths are attracted to the lights, which in turn attracts large numbers of large spiders. Workers in the summer have to wear long pants and shirts with their sleeves and cuffs duct-taped closed. They even wear hoodies to keep spiders from going down their backs.
Casey brought us up to see how his crew does a color change. Because it's April, the lights were switched to blue to support Autism Awareness month. Building management is hopeful that someday the fluorescent tubes can be replaced with LED fixtures that can be controlled remotely via computer, but for now, it's handled the analog way.
Below, a slideshow showing the progression of the Hancock Building
---
I heard a sculpture on the University of Chicago campus casts a shadow at noon on May Day that looks like the Communist hammer and sickle. Da or nyet?
Peter Glassman, Kilbourn Park
This is kind of an urban myth. Every year on May 1, people gather around this sculpture at the University of Chicago called Dialogo to see if this is true.
You be the judge. Below, a picture of the shadow (right) on May 1 and a picture of the Communist hammer and sickle.
May 1 or May Day is the International Workers Day, celebrated by the labor movement around the world. It became a major holiday in communist countries, like the Soviet Union, and it's still an official holiday in China. There's a linkage with the hammer and sickle and communism, and May Day.
The sculpture itself was created by a Chicago sculptor who was born in Italy by the name of Virginio Ferrari. The sculpture is located in front of the University of Chicago's Albert Pick Hall for International Studies. Ferrari served as an artist-in-residence and an assistant professor of art at the University of Chicago in the '60s and '70s, and he created the sculpture in 1971.
While Ferrari says he's always happy for people to talk about his work and give it different interpretations, he said he had no intention of creating this hammer and sickle shadow or anything political. He said he didn't even notice it until a student pointed out the shadow to him.
Ferrari said the piece was intended to represent a dialogue between nations, hence the name Dialogo. The upper element of the sculpture is intended to be a halo protecting the dialogue, and the lower curved elements of the sculpture are supposed to represent waves of water that keep all of the continents together.
The International Workers Day has its roots in Chicago. It commemorates the May 1, 1886 Haymarket affair in Chicago, which was an infamous bombing and riot that took place during a labor demonstration in Chicago's Haymarket Square.
Dialogo isn't Ferrari's only sculpture in Chicago. Located at the intersection of Ontario, Ohio and Orleans streets is Ferrari's Being Born sculpture, which used to be located on State Street.
---
Why did city planners lay out "streets" and "places" with the same name on the South Side --like 42nd Street, and just south of it, 42nd Place?
Rima Mandwee, Lakeview
In Chicago, the numbered streets start at 1200 south, which is Roosevelt, so just south of that you have 12th Place—which is actually half a block south of Roosevelt. Places don't really appear with any regular fashion. They're scattered throughout the South Side from the lake to the western edge of the city.
We consulted Chicago cartographer and historian Dennis McClendon. According to him, in Chicago, by city ordinance, blocks are one-eighth of a mile long in one direction and a sixteenth of a mile long in the other direction. This is why you hear people talk about long blocks and short blocks in Chicago.
The South Side streets are numbered sequentially in long blocks—that is one-eighth of a mile increments. So 38th Street is one-eighth of a mile south of 37th Street. But in some places the blocks are laid out with the short block running north-south and the long extension of the block running east-west, so you get a new street at what would be the halfway point of a long block.
In those cases, the street is given the name of the numbered street just adjacent to it. For example you have 63rd Street and half a block south from there you have 63rd Place. Interestingly McClendon pointed out that there are similar problems in other cities that are solved in different ways. In Cicero and Elmwood Park, for example, you'll see courts or terraces there in between the avenues of the same name. In Washington, D.C., between S Street and T Street there will be streets that just start with "S," and in Houston, some streets are fractions like 11 1/2 Street.
Why are a few of the short blocks on the South Side running north-south instead of east-west? There's no rhyme or reason according to McClendon. Developers who acquired the farmland on the South Side arranged the blocks in whatever way they thought was most profitable. This could've included orienting blocks to pick up the street car line, capitalize on store frontage, or spend the least on paving the streets and laying sewer lines. 
---
More Ask Geoffrey: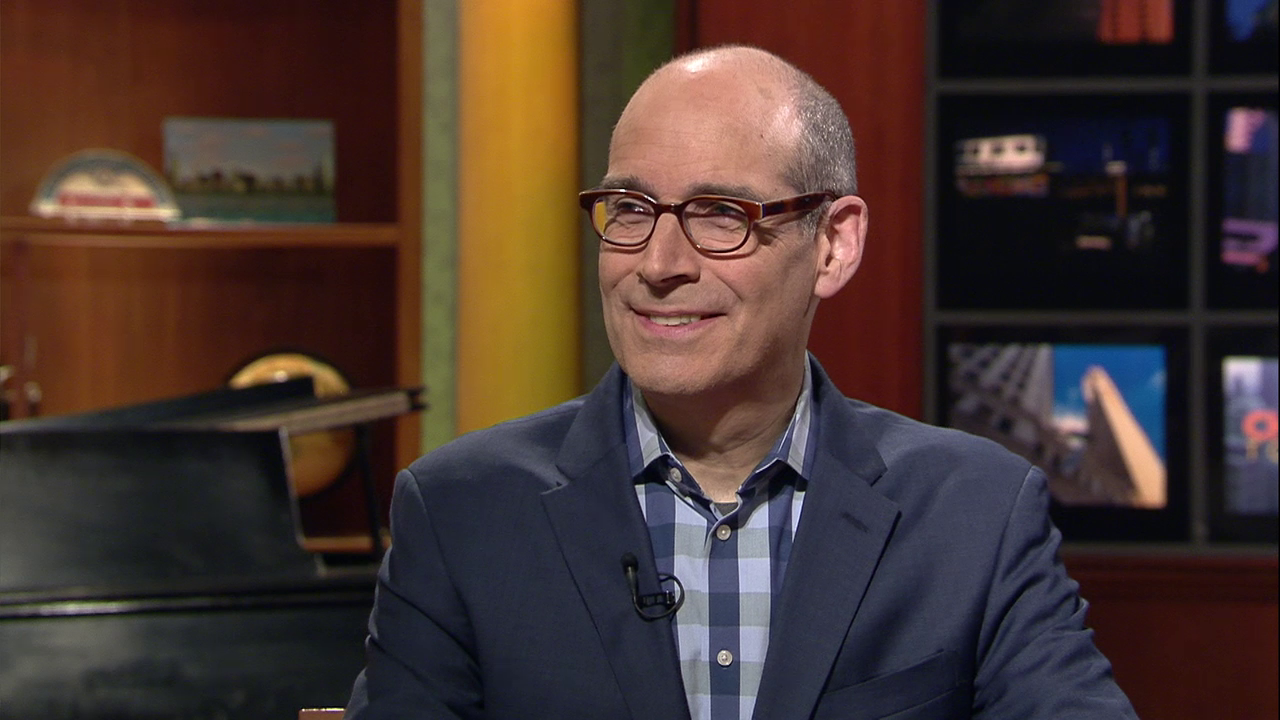 Did you know that you can dig through our Ask Geoffrey archives? Revisit your favorite episodes, discover new secrets about the city's past, and ask Geoffrey your own questions for possible exploration in upcoming episodes. Find it all right here.
Do you have a question for Geoffrey? Ask him.
---