Hollye Jacobs was a nurse, social worker and child development specialist, when she found herself moving into the role of a patient. We look at her journey through surviving breast cancer and her new book, The Silver Lining, a supportive guide to help other cancer survivors.
---
Read an interview with the book's photographer.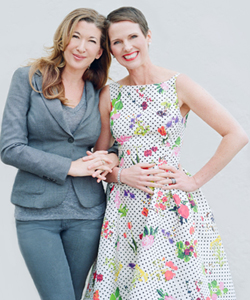 What inspired you and Holly to create this book?
This actually started completely organic as a personal project between friends. When she was diagnosed, I felt afraid. I wanted to do something for her but I didn't know what to do. Since I was a professional photographer, I wanted to show her journey through my eyes. I wanted to show her how beautiful she is. From the little I knew about tragedy, I knew that when you're at the center of it you lose sight of what's going on. So hopefully this served as memories for her.
How was your morale throughout the process?
I think it changed depending on the day and situation. While I was with her while she was going through this hard time, being her photographer protected me in a way. I would be at chemo sessions with her and—while it's sad—I would take shots of her and give directions, so it would be a bit of humor and art. I would tell them to hold what they were doing so I can get the right shot and sometimes that awkward moment can be funny. I think that protected us both. I didn't want to burden Holly with my emotions, too. I just wanted to be a friend and be there for her. Really, it was a bonding experience for us. We went on a journey together that we didn't know we were going on and it just strengthened our friendship.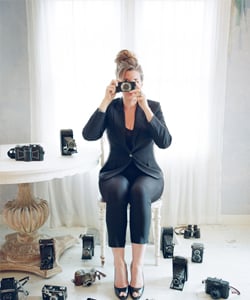 Are there any memorable moments from your shoots with her?
There are so many. There are a few that stand out. One of the most memorable ones was she had talked a bit about her daughter and how difficult it was to hold her after her double mastectomy. I'm a mother too, so I couldn't imagine not being able to hug my daughter. So her and her daughter came up with the solution of her daughter leg hugging her. That was one of the most powerful moments I captured. I also took boudoir photos of her shortly after her double mastectomy, and I have never seen anyone else do that. What I found was I became very aware of photos I've seen of double mastectomy as merely clinical. They were used for sharing information and usually in a bad light, but I wanted to make sure this was different. Cancer is hard, but treating it with kindness and softness is important to me just like a celebration or a wedding. Hopefully, it could help others as well like it helped me and Holly.
Is there anything you would do differently?
No. The only thing I wish was different was that Holly didn't have to go through it, but I know that's out of my control. I'm so lucky to have gone through this with her. Not to sound corny, but she really is the silver lining in my life. I mean, it just brought us closer, and I was able to be with her through it all and take pictures.
Interview has been condensed and edited.
---
Read a book excerpt, and view a slideshow.
Planning and Simulation

This was the one appointment for which I was the least prepared. Oh, I wish I would have known what to expect! At this point, nine months into a miserable course of treatment, I was so doggone tired of appointments and thinking and interventions, that I (erroneously) assumed that a planning and simulation appointment would be no big deal. Boy, was I wrong. It wasn't devastating, but it did throw me for a loop. Had I taken the time and emotional energy to plan for what to expect, I know that it would have gone a lot more smoothly.

So, please learn from my mistakes. Here's the way to think about the planning and simulation appointment: it is the warm-up before the race. The reason for the simulation is that delivery of radiation has to be carefully and precisely planned. When I say precisely, I mean at the cellular level, which translates to a long, long appointment.

During this session, the treatments are simulated in order to determine specifically where the radiation will be delivered. The way to determine the treatment area is to use a CT simulator to determine exactly where the radiation will go. This is called a treatment field.

After changing into yet another unattractive hospital gown (with static cling in all the wrong places), I was placed on a long, hard CT scanner table with—here's the tough part—my arms extended in the most excruciating position above my head for an absurd amount of time. I felt like one of those helpless little calves in a rodeo, the ones who run out in the middle of the ring and have all of their hooves tied down so that they are immobilized.

After my first scan, I (erroneously, again!) thought: "Oh, that was easy. Where shall I have lunch?" Nada. I was in the room for just under three hours. The Silver Lining for you, dear readers, is that yet again I was an anomaly. It usually does not take nearly this long.

And (I'm only telling you so that you can mentally prepare yourself, not to ruin your day!) you are in a cold exam room. And you're alone. Why by yourself? you ask. Well, because the emissions from the X-ray and CT scanner are so toxic that no one else can be in the room.

Excerpted from The Silver Lining by Holly Jacobs and Elizabeth Messina. Reprinted with permission of publisher.
~ Josclynn Brandon contributed to this report.