Vacant plots of land are selling for $1 in Englewood. Brandis Friedman explains why. 
---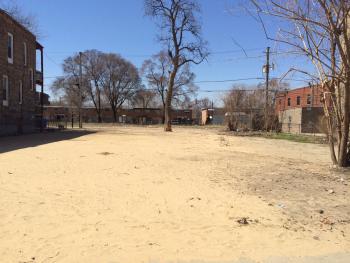 The first program from the City of Chicago's $1.3 billion five-year housing plan is underway, starting in the Greater Englewood neighborhood. A pilot program lets residents purchase one or two of the City's 5,000 vacant lots.
In the south side Englewood neighborhood, hundreds of lots, like this one sit empty; many littered with trash, or this one looks more like a desert than an urban neighborhood.
But this one is the one homeowner Mekazin Alexander wants to buy in the 6900 block of South Perry Avenue.
"We will put up some benches and some trees and some hopefully, try to do some kind of things where we can have, like a movie on the block," said Mekazin Alexander.
Alexander is one of more than 200 residents who're buying these empty lots from the City as part of a pilot program.
"We have something on the order of 5,000 vacant lots there -- the city does," said Kathleen Dickhut, deputy commissioner for the City of Chicago Department of Planning and Development. "And then there's also a couple thousand more that are not owned by the City. So there's a lot of vacant land there."
Those 5,000 parcels are in communities that include neighborhoods like Englewood, Woodlawn, Greater Grand Crossing and New City -- an area the city calls Greater Englewood.
"Right now, these are city-owned lots. You know, the city is barely maintaining these lots," said Asiaha Butler. "So, I think once the community has opportunity to own it, pay taxes on it, they'll have more sense of ownership for it and also have conversations around what this could be."
The idea to return the lots to the residents came from community members themselves, among them Asiaha Butler of the Resident Association of Greater Englewood or R.A.G.E.
"I personally want art, like I want some huge art sculpture, or dog park. I just got a dog," Butler said. "So, I'm looking at places where people can gather with their dogs."
Butler plans to buy this lot. It's across the street from her house and next door to a home she rents to tenants. That's one of the program's requirements; purchasers must own property on the same block as the lot they're buying. They also can't owe the City any back fines, bills or taxes. And of course, they have to be able to pay the price.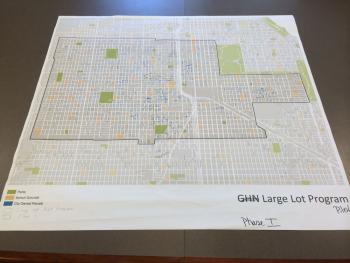 "You can buy two city owned lots for a dollar each," Dickhut said.
A single dollar. Plus, property taxes going forward.
Butler says, already, the ideas are flowing from residents on what the lots could become.
"I've heard of urban gardens, fountain of some sort, some sort of very easily maintained thing that kids can play on," Butler said.
But more than a beautification project, the program could serve to bring neighbors together in a community often known for its crime.
"I'm hoping that it'll A get more homeowners to work together on a project to beautify some of these lots," Butler said. "I think, once, it's a really, it's a different thing when you start paying taxes on certain things. You have a little bit sense of ownership. And you want it to be right."
"There's a block with maybe let's say five houses, and then a couple are in good shape, a couple abandoned and maybe 10 other lots," Dickhut said. "Well, those five houses could stabilize that block if they can just get the property."
Deputy Commissioner of Planning and Development Kathleen Dickhut explains the empty lots stem from a change in the neighborhood's population.
"In 1940, it was about 300,000, and now it's about 140,000, so that's a half -- half the population has decreased in that time," she said.
Buyers aren't required to demonstrate any particular plans for their respective lots.
"So if you own property there and you're paying taxes, this is why we think it'll be more successful because they're already invested there, and some of them are already taking care of the property," Dickhut said.
But the City and neighbors trust that anyone who buys a lot will at the least maintain it, and at the most make it into something the rest of the neighborhood can enjoy.
Homeowners like Butler and Alexander both know that while being creative in the new use for their lots, they'll have to be creative to fund any improvements.
"Their block party could become fundraisers to help them to get those things," Butler said "It's organizations like KaBOOM and other resources that I think are available that can help people with some things like that."
"It won't be all out of pocket. I don't think the project should be such," Alexander said. "I don't think it should be, you know, you can get the project for a dollar and now you have to put in thousands of dollars to make it work, out of your pocket. It should be still a community support."
City planners say this is just the first phase of the pilot program, so there could be more opportunities to buy vacant lots down the road and enough empty lots to go around.
Applications for the Empty Lots program close on Monday. The City says the process should take a matter of weeks, rather than months as is typical with the City's existing land-sale program. The program also requires that owners keep the property for at least five years before selling it again.
---
View a map.