Chicago's most ambitious new park has an odd look to it these days. If you've driven past the northeast corner of Grant Park, adjacent to Lake Shore Drive, you may have noticed that it's covered in what looks like packing foam. The construction of Maggie Daley Park is proceeding as planned, despite Chicago's long, brutal winter, and it includes that strange material.
From a bird's-eye view, or that of a downtown office worker, it looks a like a large field of Styrofoam. An up-close view seems to confirm that suspicion. Except that the material covering what will become Maggie Daley Park is called GeoFoam, and it will literally shape the more than 20-acre site.
"This allows us to do what we need to do to add topography to the site, and it doesn't degrade, which allows us to put the plantings in and keep the soil limits low," said Chicago Park District CEO Michael Kelly. "And we're going to go over 1,000 trees on top of that GeoFoam."
In a city that's renowned for being flat, the ambitious park will have an undulating landscape that will create rolling hills Chicago so sorely lacks. And the GeoFoam will make that happen. Park officials say GeoFoam is eco-friendly and an ideal material because of its durability and weight.
"GeoFoam is approximately 1 percent of the weight of soil. So, wet soil out on site is probably 125-126 pounds per cubic foot. GeoFoam on the other hand is 1.19 pounds per cubic foot," said Maggie Daley Park Project Manager Nichole Sheehan. "The amount of GeoFoam you see out here is about 50 percent of the total GeoFoam that will eventually be out on site. We have around 75,000 cubic yards of GeoFoam coming out on site."
Construction on the ambitious park began nearly a year and a half ago, and the Park District has documented the progress in ongoing time-lapse videos. Since the beginning of the year, the videos have captured the winter of 2014 in all its unforgiving glory. The severe cold and record snow slowed down the pace of construction at Maggie Daley Park, but only slightly.
"The winter was definitely challenging for construction, and I think crews everywhere will tell you that. We were able to continue with utility placement, both electrical and storm drainage utilities," said Sheehan. "And anybody who was keeping an eye on our web cam would have noticed that we had GeoFoam coming out here rain or shine. Seven truckloads a day of GeoFoam were coming out on site. We have a little bit of makeup to do in terms of the schedule but we're still on track to open late fall this year."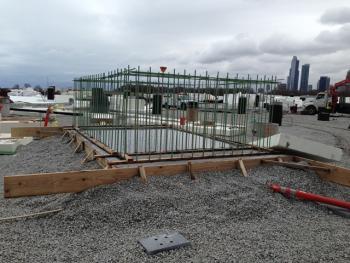 There's still an awful lot of work to do at Maggie Daley Park, but the Park District insists that come November, they will have a soft opening, complete with a quarter-mile long skating ribbon, a children's playground that may look like something out of a fairy tale, and climbing walls.
The old fieldhouse that still bears the name of another Daley, Mayor Richard J., will become a café and equipment-rental facility for ice skaters and rock climbers.
By spring of 2016, the GeoFoam and soil that was moved to the east side of the park will top the dark fabric surrounding these supports posts. Park officials add that, barring any unforeseen problems, the entire project will come in on budget at $60 million.
"There's no wood within arms' reach, but knock on wood," said Kelly. "We're still on schedule and on budget."
And that's something that would have pleased all the Daleys.