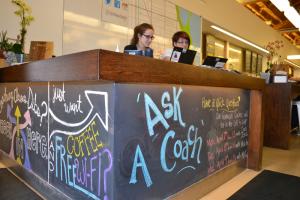 The echoes of fingers crunching on keyboards, espressos being made and the buzzing of groups discussing their current projects are not the typical sounds that can be heard next door. But those are the sounds that flood a quaint little shop in the Lincoln Park neighborhood by the same name.
Next Door is the place people frequent when they can't get any work done at home, when they are looking for extra space to hold a meeting, and where they want to network and collaborate with like creative minds. It's also the place where they receive financial coaching and discover their inner awesome.
"We wanted this community hub and a café, in a way, has already become that in the world," said Brett Myers, Next Door's Program Director. "So we said, 'what if we did some version of a café and it's us?' It's us, State Farm. So we did a lot of listening to people in Chicago of what they need to do and what they need help with and what can we do to help."
And helping is what they're doing.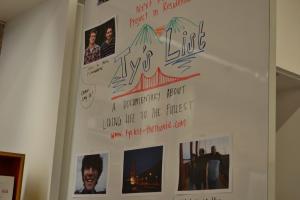 To meet the needs of clients, Next Door started a Residence Program, where they dedicate space and efforts to community projects and businesses. Ty's List, a documentary about Tyler Lorenzi, a 23-year-old Northwestern University student who passed away in May 2011, is the current project of focus. Next Door not only gave Ty's List filmmakers a designated work space, but has also been a networking tool for them and has assisted with the planning process for the film's screening.
"Having the support network and professional development of Next Door has been huge for us," said Jessie Swedlund, one of the filmmakers. "It's been a wonderful home for us to be at."
It's enjoyable for Next Door, too.
"It's just fun to have them around and being exposed to different people helps us be better at our job," said Myers.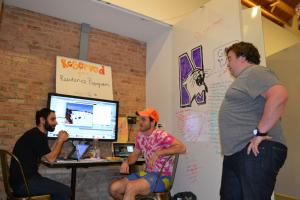 Besides offering a work space, Next Door has three financial coaches on staff that assist with budgeting, buying a home and planning for retirement among other things. Anne Moore of Crain's Chicago Business finds this to be one of the best features of Next Door.
"The fact that it has this type of personal finance piece really changes people's lives, and they've created a space for people to get that planning advice in a great environment," said Moore.
People can receive personal finance coaching one-on-one or take advantage of the numerous classes that Next Door has to offer. Classes range from "I Suck at Budgeting" to "Entrepreneur's Idea Workshop." No matter which class a person chooses, there's still a community feel to it.
"What's cool is that a lot of the classes are taught by local people as well. I want to get into this and here's someone else in the neighborhood that's already an expert at it. We kind of facilitate that learning transaction," said Myers. "The coolest part of this, for me, is that we get to help people, but at the same time we're doing our job. It's cool to help the community, and at the same time, help this big company. The community aspect is really enjoyable."