In 1975, she became the first woman to cover the Super Bowl, and now she'll be the first woman to receive a Ring Lardner Award. Jeannie Morris stops by to discuss women in sports, and how she was the woman who paved the way.
---
Read what local female sports reporters had to say about Morris's impact on sports journalism and their own careers.
Dionne Miller, Sports Anchor/Reporter Fox Chicago News:

"As a pioneer in the business, Ms. Morris paved the way for me to do a job I love. I got into sports journalism because I love sports -- the games, the X's and O's. I love understanding the nuances of each game, player personalities and the privilege of telling that story in my own unique way. Jeannie is the one who opened that door in Chicago and beyond.

As women who've never played in the NFL, NBA, NHL, MLB or the like, we're always outnumbered when we're working and we have to do more research, build stronger relationships and find our own voice, knowing there will always be a skeptical eye on us as we journey through this business. And the other difficult part is that, as women, we are expected to look a certain way."
Kelly Crull, Reporter/Anchor Chicago Sports Net:

"My favorite part of the job is just being around the action. Whether it's on the field, a court, the ice, the environment that surrounds live sporting events is unlike any other. Athletes who leave you in awe with their God-given talents and the fans who show up in rain or shine to cheer their team on, no matter what. That passion, that entertainment is what I get to call a 'job.' You're pretty blessed when you get to talk about and break down sports for a living.

The most difficult part of being a woman in the sports world is the mere aspect of feeling like you have to prove your knowledge of the game each and every day. While that may be the toughest part, it's also that challenge that makes the job so enjoyable. When you love what you do, it's easy to work hard and be passionate about it."
Sarah Spain, SportsCenter Anchor/Host, ESPN 1000, Columnist, espnW.com

"I'm able to work in this industry I love in part because of her. She had to start her career under the byline 'Mrs. Johnny Morris' but quickly made it clear she wasn't just a football player's wife.

In the eyes of most sports fans and athletes, you start out at a deficit, the assumption being that you don't know your stuff. You have to prove yourself at every turn and earn their respect. Male journalists are assumed to have earned their job, while too many assume that female journalists are hired for their looks, to fill some sort of quota, or, even worse, because of some sort of inappropriate means. I love that most days 'work' means watching, analyzing or attending the games I'd already want to be watching, analyzing or attending just for fun. I never for a moment take for granted that I get to do something I love every day. I know for many work is just a job. For me, it's very much a part of who I am and an important aspect of feeling fulfilled in life."
Megan Mawicke, Sports Reporter/Anchor, CBS Chicago:

"The award is so well-deserved! I am on the Ring Lardner voting committee and I was so excited to see Jeannie, a true trailblazer, get the credit she deserves. I owe Jeannie a BIG thanks for paving the way for me and so many other women in sports journalism. I wouldn't have the career I have had without Jeannie and what she accomplished before me. 

The thing I love most about my job, is meeting new people every day and that no two days are alike. I love to talk to people and tell their interesting and inspirational stories. I really like doing feature stories the best. They are the most rewarding, challenging and fun stories to cover in my perspective. I don't think there is anything difficult about being a woman in sports. I have been doing it for 17 years, 14 in Chicago; if you know your stuff, do your homework, you will get the credibility and respect just like men do. I have encountered very little issues/problems for being a woman in sports over my 17-year career."
Peggy Kusinski, Sports Reporter, NBC Chicago:

"I am thrilled Jeannie Morris is being honored. We are entering a third generation of women in sports journalism since Ms. Morris worked in Chicago television.  She broke the ground for all of us and we should be grateful to her for doing it with a smart, engaging approach. One day, I walked into my brother Tim's apartment and he and his friends were watching ESPN SportsCenter.  This was in the Fall of 1981. 'What are you watching?' I asked them about this NEW channel. After telling me it was ESPN, an all-sports channel, I watched curiously -- there were two WOMEN anchoring behind the news/sports desk. That's when I knew that's what I wanted to do.

The most fun I had was a story on Bears' long snapper Patrick Mannelly, taking him around downtown Chicago and having him long snap a football into a cab window, across the lanes of traffic on Lake Shore Drive, and even from two boats passing each other on Lake Michigan; he did it on one take!

I love constantly learning. I have a natural curiosity, and although I played basketball, softball and volleyball, I love actually breaking down the sport. Covering football and the Chicago Bears, I am constantly learning new things with new coaches, new approaches, new offenses and defenses."
- By Josclynn Brandon
---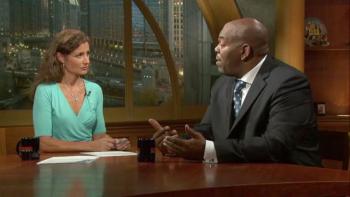 Chicago Tonight producer and Big Cat and the Bears Host Ann Kreiter is a former sports reporter for Fox Sports Chicago, ESPN, and the Big Ten Network. Kreiter grew up in Wisconsin and wasn't able to watch Jeannie Morris on-air during her time as a local Chicago broadcaster, but nevertheless she is still well aware of Morris's legacy and impact on sports journalism. Read what she had to say about Morris:
Jeannie Morris is being honored on April 1 as the first female winner of a Ring Lardner Award for her excellence in sports journalism. What are your thoughts on this milestone?
Jeannie Morris is certainly deserving. I actually find it a bit surprising this is the first time a woman has been honored. "Excellence in sports journalism" sounds gender-neutral. Leave it to Jeannie to once again blaze a trail for hopefully other women to follow!
Some say Morris paved the way for female sportscasters that came after her. What are your thoughts on that?
I put Jeannie right up there with Lesley Visser, Lisa Olson, and Andrea Kremer. They all started their careers at different times, and some are still forces in the industry today. But, in my mind, each woman's courage and tenacity to forge a career in sports journalism has helped open eyes - the eyes of viewers, readers, news directors, coaches and players. Because of them, by the time I graduated from Northwestern in 1994 and was looking for a sports reporting job, TV stations were actually wanting to hire a female sports reporter.
What are some of the challenges you have experienced being a female sports reporter in a male-dominated world of sports?
I've loved my career in sports journalism, and being a woman in the industry has only been a hindrance a handful of times. An NBA player who scolded me for not having played in the NBA, an MLB player who had a locker room attendant hand me a slip of paper with his phone number on it, and a few disparaging looks along the way. But those were all blips on the radar, nothing that actually impacted my work or was enough to discourage me. I think the one thing that actually bothered me took place in the locker room. In order to get to know a player better, to fish for ideas for feature stories, to learn more about the player as a person, it's natural for reporters to put down their pens or microphones and just chat with the player for a few minutes. This helps build trust, and could lead to better reporting and more innovative stories down the road. But when a female sports reporter does that, it's sometimes misinterpreted by fellow reporters and other players as "flirting" instead of "chatting." That's frustrating! 
Has it changed over the years? How?
More and more women are getting into sports reporting, and are ready for the business coming out of college. They're smart, they're prepared, they know their X's and O's, and they're willing to work long hours. And if they happen to be beautiful, more power to them. It is a visual medium after all. They shouldn't have to apologize for being good-looking, and they shouldn't have to put up with viewers or players who assume they don't know what they're talking about because they're attractive. It's such an exciting career, and I'm happy to see it becoming more balanced in the gender department.
~ By Yasmin Rammohan