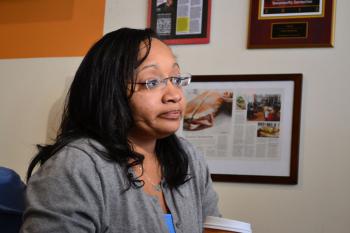 As the economy has picked up since the Great Recession, the short-term unemployment rate has been going down, and nationally, it's heading toward pre-recession levels. Cook County is home to 230,000 unemployed workers. And in Chicago, the 9.6 percent unemployment rate is three points higher than the national rate of 6.6. But, a special population of the unemployed – 40 percent -- have the deck stacked against them because they've been unemployed for 27 weeks or more.
At Cafecito in the Loop, the line is long, but the wait is short. Erica Hall, 34, wished the same were true for her job search.
"After six months, I'm a little bit frustrated simply because it's just taking so much time," she said.
After losing her job as a government contractor in Florida six months ago, Hall was surprised by the lengthy process of finding a new one.
"So, it's taken a blow to my ego for one. It's a little depressing to not have income. It's very hard," she said.
Unemployed, she moved to Chicago last fall so that she and her son Myles would be closer to her fiancé. At the time, they figured a city like Chicago would have more opportunities. But because of the wait, her son has had to understand that things are different.
"He's always known mommy to work, considering I received my master's degree about a year and a half ago. Mommy was also doing homework while he was doing homework," said Hall. "So he's used to me doing a lot of different things at the same time. But he understands that mommy is looking for a job and mommy works out a lot."
But Hall wasn't alone in this type of unemployment. Forty percent of unemployed workers are out of work for six months or longer, making them what's called "long-term unemployed." They are a group for whom the statistics aren't good.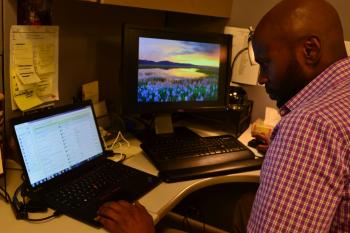 "The bankruptcy rates are a good bit higher for folks who've been long-term unemployed. The mental health challenges that they face as their unemployment elongates. The divorce rates go up," said Patrick Beharelle, CEO of Seaton companies. "All of these have significant downstream implications for society with bankruptcies, divorces, mental health challenges. It turns out actually children's grades go down as their parents have been unemployed for long periods of time."
Seaton is an outsourcing and recruiting firm.
"We hire over 250,000 people a year so we make a job offer every 30 seconds," Beharelle said.
Beharelle knows how easy it is for long-term unemployed workers to become stigmatized.
"The first challenge is just getting the interview. It turns out that folks that have been unemployed for long periods of time have a harder time getting noticed, in part because recruiters in some cases will use filters to look for employment gaps to filter out those resumes, so the first challenge is just getting the interview," he said.
Seaton is one of 300 businesses across the country that have committed to a set of "best practices" to be sure the long-term unemployed don't experience discrimination.
"The business community has a special obligation to help solve some of America's most pressing challenges, and the fact is the government doesn't create many jobs," Beharelle said. "The government creates conditions for the private sector to create jobs, so the fact is it's the private sector who does the hiring."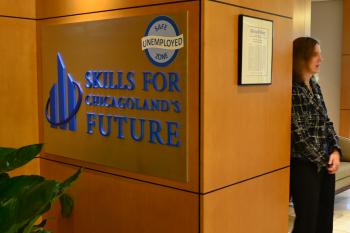 Among those practices are ensuring advertising doesn't discourage or discriminate against the unemployed; reviewing screening and recruiting procedures so they don't disadvantage applicants based on their employment status; and casting a broad net when recruiting.
It's a cause that's being championed by the public-private partnership, Skills for Chicagoland's Future. CEO Marie Lynch says there's more than just the stigma working against job-seekers.
"Technology, while an asset, is also a liability. There's 1,700 resumes for every one position. It's just not practical to put 1,700 people in front of a hiring manager and so they have to find some way to filter those down," said Lynch. "We know that 85 percent of positions, individuals obtain those by networking, and yet people probably spend 85 to 90 percent of their time on the computer submitting resumes, and ending their day thinking that they've really made an active effort at trying to get back to work, but the likelihood of them getting a job through that is very small."
The SCF model is to work with companies on hiring currently unemployed job-seekers.
"Exclusively and only engaging them when they commit to hire, and that no dollar is spent with any of this work unless a company commits to hire," said Lynch. "So you've essentially engineered the results by working with the core organization which is the employer who's going to hire them. When we work with employers on the front end, we had a much higher placement rate, to the tune of 25 percent higher placement rate."
Since starting in 2012, SCF has helped more than 600 job seekers find work, with more in training programs that lead to immediate employment afterwards. Because of its unique model, it was highlighted earlier this year during a White House summit on long-term unemployment. Watch the President's speech:
And since she's been working with SCF, Erica Hall has noticed a pick-up in her job search.
"My first interview came through them," she said. "After all these months and all my searching, and all the recruiters I have spoken to and gone to meet with, they are the first ones that I've actually had an interview with an actual company, rather than just the recruiter."
Such a pick-up in fact that she's been offered a job doing fraud and risk analysis for JPMorgan Chase, a job she happily accepted. Hall starts her new job in just a week.
View a graph of Chicago's unemployment rate and read an interview with Darryl Lane, Senior Talent Acquisition Lead at Skills for Chicagoland's Future, about employment tips.