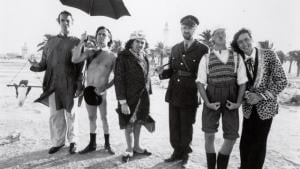 With the Wrigley Building as a backdrop, a guy with a microphone approaches a woman (who is clearly a man dressed as a woman) and asks: "Would you like to subscribe to public television, or would you prefer a knee to the groin?" She says "I'm not sure" and gets the knee.
Pledge pitches on PBS were never so strange or funny.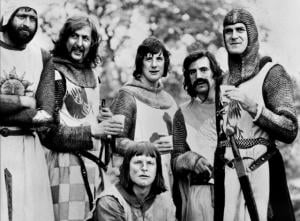 It was October 1975 – just six months after Monty Python and the Holy Grail became the first hit film for the British comedy giants. The late Graham Chapman and Terry Jones hit Michigan Avenue with a WTTW camera crew to support the pledge drives that keep us going.
Perhaps it was a friendly payback from The Pythons – Channel 11 was one of the first stations in the United States to air the TV show Monty Python's Flying Circus and was first to buy it from the BBC.
If you love Monty Python, do yourself a favor and watch this 3-minute compilation of the ways in which two brilliant, funny men cajole and threaten Chicago to support public television:
In one moment, a man on the street announces: "Speaking as a pervert, I think Channel 11 is doing a wonderful service to people." A strange man in a fountain (known as a Gumby to Python fans) shouts "Subscribe!" like it's the only thing that will save you from certain doom. And Terry Jones nearly cracks up Graham Chapman at the 1:14 mark.
With the March pledge drive now underway, it's a kick to recall the days when the fundraisers ran away with the Circus.
[Thanks to Dan "The Elk" Newman for bringing this to my attention.]