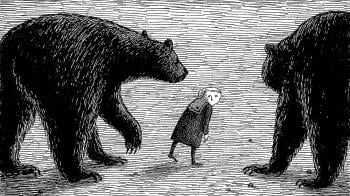 Edward Gorey was a Chicagoan. It's amazing how many people are unaware (myself included, until recently) that he was born in Chicago in 1925. Gorey attended high school at the Francis W. Parker School and lived in Rogers Park – though his family moved many times when he was a child. His fans often assume he was British – the characters in his drawings are often in Victorian or Edwardian settings and costumes.
13 Thrilling Things You May Not Know About the Mysterious Mr. Gorey
1. Edward Gorey attended the School of the Art Institute for one semester. It was his only formal art training.
2. He traveled to Scotland in hopes of spotting the Loch Ness Monster. He didn't see it and called it (perhaps tongue-in-cheek) "the great disappointment of my life."
3. Gorey was a huge fan of silent films and called Buster Keaton "his idol."
4. He was drafted into the Army in 1944 but did not serve overseas. He served for two years at Dugway Proving Ground, an isolated base in Utah that tests biological and chemical weapons.
5. His parents divorced when he was young and remarried each other 15 years later.
6. His stepmother was briefly seen in the film Casablanca (1942). Cabaret singer Corinna Mura is the woman with the acoustic guitar who joins in the emotional singing of the French anthem La Marseillaise, drowning out the sound of the Germans singing Die Wacht am Rhein.
7. His roommate at Harvard University was the American poet, Frank O'Hara.
8. Gorey was very private, never married, and claimed to be asexual.
9. He sometimes published using pseudonyms that were anagrams of his name such as Dreary Wodge or Ogdred Weary.
10. He loved ballet and was a dedicated patron of the New York City Ballet. He considered choreographer George Balanchine to be his spiritual master.
11. He loved to wear fur coats, sneakers, and earrings, but he stopped wearing fur later in life.
12. His favorite author was Jane Austen.
13. Edward Gorey claimed to have inherited his talent from his mother's father's mother – his great-grandmother –who supported the family in the 19th century by making greeting cards.
Visit The Art of Edward Gorey to learn more about an in-depth exhibit at the Loyola University Museum of Art.