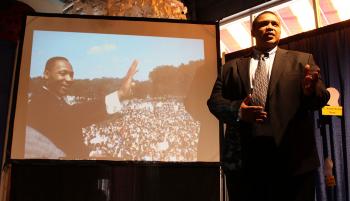 Over one billion searches are done using Google each day, and with today's doodle, a lot of people will be reminded that the third Monday in January is the Martin Luther King Jr. holiday. However, I didn't need a tech company's daily doodle to remind me; memories from my childhood do.
At an early age, my parents made sure that I understood why on this Monday I wasn't attending school, and why they were off from work. We would either have deep-rooted discussions about Dr. King, or my mother would take me to see a film that in some way related to the civil rights movement.
The only memory I have of studying Dr. King and black history in school was in Mrs. Cooper's third-grade class. After that, I had to take it upon myself to continue gaining the knowledge while in college, taking a course titled The Civil Rights Movement and the Hip Hop Generation, and participating in marches held by the city.
It saddens me when I hear and interact with children who are not familiar with who Dr. King is, or how he contributed to our country. While attending an event this past weekend at Claremont Academy Elementary School, held by the Imani Pearls Community Development Foundation, a young girl said, "He has a skating rink named after him," when a group of middle school-aged students were asked what they knew about Dr. Martin Luther King Jr.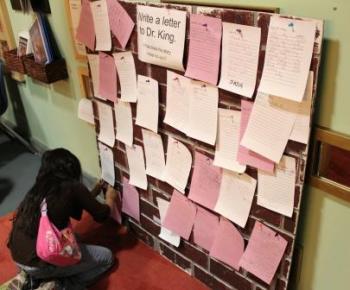 Hoping deep down that she knew more but may have been too embarrassed to share with the group, I prayed that the students walked away from the workshop well-informed about his life, and confident to share it with others.
And they were.
They were taught about Dr. King's nonviolent approach to handling adversity, and they even signed various pledges that promoted a positive attitude and good behavior.
"It sends the message of Dr. Martin Luther King to stop the violence in the wake of all the violence that has been happening across the United States, especially here in Chicago," said Dion Redfield, president of the foundation. "I think that they learned a lot today on what Dr. King's message was and it should help perpetuate nonviolent situations."
The Chicago Children's Museum also had guests engage in a writing activity during their celebration of the holiday. Their interactive play, What Does it Mean, Dr. King? takes the audience on a tale of racism and segregation. Attendees were encouraged to write a letter, not only to Dr. King, but to other members of the civil rights movement, like Rosa Parks and Ruby Bridges. The letters were to express feelings about what they learned and how they felt about what members of the civil rights movement endured.
But, as someone who has been taught that gaining wisdom never stops, I believe the celebration and learning experience of the Dr. King Jr. holiday shouldn't just stop with elementary school-aged children.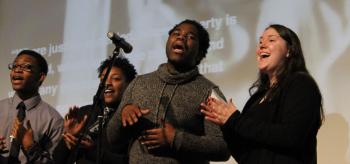 There are 10 major universities in the Chicago area, and all but one recognizes the civil rights leader's birthday as a federal holiday. However, for the 2015-2016 academic year, that will change.
"Staff and students got together and submitted a proposal to the president saying that because DePaul University believes in social justice, because of our values and who we are, time has come for us to get Martin Luther King's birthday off," said DePaul University's Vice President of Institutional Diversity and Equity Elizabeth Ortiz.  "And the proposal was submitted to the president and he approved it."    
Even though DePaul University currently doesn't recognize the day as a federal holiday, they still celebrate the holiday with various events, like their annual Dr. King Prayer Breakfast, which this year featured WBEZ South Side reporter Natalie Moore as the keynote speaker. She spoke about the city's segregation issues, saying, "It's a backyard mentality that doesn't belong in an international city." Trying to engage the extremely diverse and college-aged audience, she shared one of her pieces on Chicago's segregated nightlife.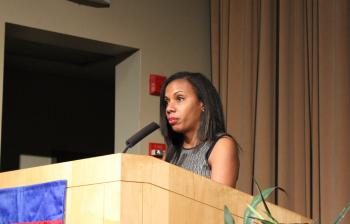 Uniting and working together as one is one thing that Ortiz hoped the audience took away from the event.
"That they remember Dr. King and what he stood for, but more importantly that they act and they all realize we individually, and we as a community, can still fight injustice, can still work towards peace and can still work towards social equality," she said. "I think it's realizing the power that every individual has to make a difference."
But, as various organizations commemorate Dr. King's birthday by having the day off and holding events to celebrate, getting to this day was no easy task.
Months after Dr. King was assassinated in 1968, Congressman John Conyers Jr. of Michigan introduced legislation to make King's birthday a federal holiday. Three years later, the Southern Christian Leadership Conference presented Congress with a petition of 3 million signatures in support of the holiday, but the bill sat for at least another eight years. By this time, some states had already decided to pass their own bills; Illinois being one of them.
Despite the numerous attempts by Coretta Scott King, Dr. King's widow, the bill continued to fail, and it wasn't until November 2, 1983 that the bill was signed by President Ronald Reagan. Even still, the first official holiday wasn't until January 1986, and only 27 states celebrated the day.
It's been 31 years since the King Holiday Bill became a law, and as Dr. King's legacy continues to be celebrated by people of all ethnicities, I hope that we continue striving for his dream. As Coretta Scott King said, "This is not a black holiday; it is a people's holiday."
---
View a timeline of the Making of The King Holiday:
Timeline source: The King Center
---
Stevie Wonder was a prominent advocate in getting the King Holiday Bill law passed. He released his popular song "Happy Birthday" in 1980, which became a rallying cry. Watch the video below.
---
Watch MLK's "I Have a Dream" speech below.