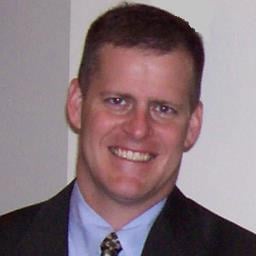 Paul Schimpf was born at Scott Air Force Base in 1971.  After growing up as the son of two teachers in Waterloo, Illinois, Paul attended the United States Naval Academy in Annapolis, Maryland.  Upon graduation in 1993, Paul was commissioned as a Second Lieutenant in the United States Marine Corps.  At the conclusion of his basic officer training in Quantico, Virginia, Paul selected infantry for his military occupational specialty.
As an infantry officer, Paul was stationed in Camp Pendleton, California and Guantanamo Bay, Cuba.  During this time, he served as a rifle platoon commander, 81 MM mortar platoon commander, company executive officer, and rifle security company commander.  In 1997, Paul was selected to participate in the Marine Corps Law Education Program and he returned to Illinois to attend the Southern Illinois University School of Law in Carbondale.
While in law school, Paul was a member of the Dean's List and participated in both the law review and moot court.  After graduating from law school in 2000, Paul reported to the Marine Corps Recruit Depot in San Diego, California for duty as a judge advocate (military attorney).  While at the Recruit Depot, Paul was the officer in charge of the legal assistance clinic, overseeing a practice that specialized in family law and consumer protection law for service members.  Paul also served as the head prosecutor for the Recruit Depot and the Marine Corps Western Recruiting Region.  As the head prosecutor, Paul both supervised other attorneys and personally litigated drug, sexual assault, and attempted murder cases.
In 2004, Paul left the Recruit Depot to attend the Army's advanced attorney training in Charlottesville, Virginia where he received his Masters of Law degree (LLM ).  Recognizing the need for the military to improve its treatment of sexual assault victims, Paul wrote an article for the Military Law Review on the need to establish a victim-victim advocate evidentiary privilege within the Department of Defense (DoD).  This article was cited in military law treatises and DoD ultimately established this evidentiary privilege in 2012.
In 2005, Paul reported to Marine Corps Air Station Miramar as the Deputy Counsel, working primarily on issues of labor law and environmental law.  He also deployed to Iraq where he served as the lead American attorney advisor to the Iraqi prosecutors in the trial of Saddam Hussein.  Under Paul's guidance, the Iraqi prosecutors were able to induce a remarkable courtroom confession where Saddam admitted culpability in the massacre of hundreds of Iraqi civilians.
In 2007, the Marine Corps selected Paul for its congressional fellowship program and he served as the Military Legislative Assistant (MLA) for Representative John Kline (R-MN).  As the MLA, Paul was the primary advisor to Congressman Kline on defense and veteran issues.  After completing his time on Capitol Hill, Paul began work for the Office of the Under Secretary of Defense for Policy.  In this assignment, Paul served as the Strategist for Energy and Environment, assessing the impact of these critical issues on our national security.  During this time, Paul frequently represented the DoD in both interagency and international meetings on these issues, even moderating a panel discussion at the United Nations climate change negotiations in Mexico during 2010.
In 2011, Paul became the Staff Judge Advocate for Marine Corps Installations Command, advising a two-star commanding general on diverse legal issues ranging from the constitutionality of religious memorials on federal land to the disposition of officer misconduct cases. 
Paul retired from the Marine Corps on May 31, 2013 and returned to his home town of Waterloo.  Paul is married to the former Lori Duffin from Glen Ellyn, Illinois.  They have two boys, Ethan (7) and Garrett (5).
Source: Paul Schimpf's website
Follow Paul Schimpf: Facebook; Twitter