Seth Goldberg has profound hearing loss and is developmentally disabled. When he was a baby, doctors said he might never speak or even sit up. But he performed with Josh Groban this summer at Ravinia. Jay Shefsky has the inspiring story.
---
TRANSCRIPT
Seth Goldberg: So everybody doing good? How's your family? 
Jay Shefsky: What you notice right away about Seth Goldberg is that he is one of the friendliest and most upbeat people you'll ever meet. 
There are also some things about Seth that are not immediately obvious. 
Seth is almost completely deaf. Hearings aids help a little and he's a very good lip reader. 
He's also developmentally disabled. He has a seizure disorder and a form of muscular dystrophy. 
Seth doesn't drive, so at the end of his shift, one or both of his parents pick him up. 
Seth: This is my mom, Marla, and my dad, Ted.
Shefsky: Seth Goldberg almost wasn't part of this family. 
Marla Goldberg: People told us "You're crazy. You're going to ruin your life." 
Shefsky: Marla and Ted Goldberg adopted Seth 31 years ago, when he was four days old. 
Marla: Seth was fine. Seth was like any other, you know, baby.  
Shefsky: But within a few months they knew something was wrong. When tests confirmed the hearing, health and developmental problems,
Even the adoption agency said that it was OK to bring Seth back.
Ted:  That was never a consideration. 
Marla: They talked about it like he was a bag of groceries. Nobody's taking this child away from me. 
Shefsky: While Seth had a lot going against him from the start, he was lucky in at least one way: he landed in the arms of a mother who knew how to live with illness.
Marla:  A lot of people couldn't handle this, but everybody, you know, has something.
Shefsky: Everybody has something isn't just a platitude for Marla Goldberg. It's been her life experience.
When she was a girl, her father was a double amputee from diabetes, and Marla herself was a 29-ounce preemie.
More recently, that oxygen tube she wears is because her lung collapsed six years ago.
Marla: I was going to do whatever I could to get this child some chance in you know surviving in the society
But you know when Aaron would say "I'm scared Mommy. Is my brother going to die?" I couldn't say no.
Shefsky: At 31, Seth is very aware of how far he's come.
Seth: When I was little actually, the doctors did tell my parents that I should be institutionalized because I wasn't going talk, I wasn't going to be able to walk, I wasn't going to be able to sit up.  Well look what I'm doing right now: I'm sitting up, you know I walk and I'm talking to you.
Shefsky: You talk.
Seth: I talk.
Shefsky: The family gives credit to  good doctors, a good school, a supportive community and a muscular dystrophy drug.
It was still experimental when Marla heard about it on a telethon and got Seth into a trial as a toddler. 
She says it was like he woke up. 
Marla: Once the Carnitine really got into his body, this child was taking steps with a walker; he had started to say words. There was a spark there.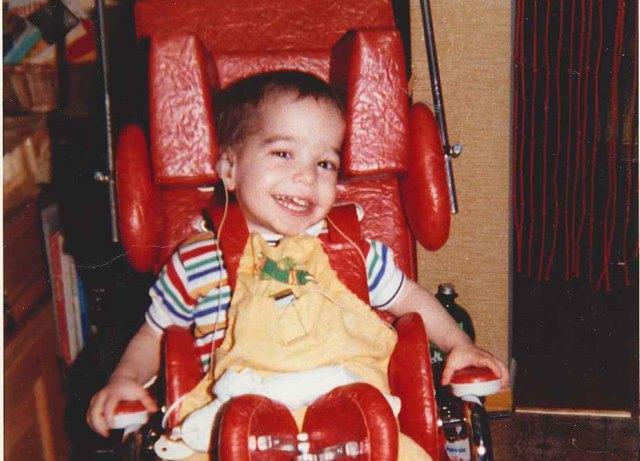 Shefsky:  And Seth has come a long way. He went from bagger to a full-time cashier, he plays wheelchair basketball, he performs in plays, [and] he even sits on the Disabilities Commission for the Village of Arlington Heights. 
And through all the doctors' visits and hospital stays and seizures and pain and therapy, there seem to be two things that keep Seth going.
One is his positive attitude about everything and the other is his love of music.
Marla: Even though he really had a severe to profound hearing problem , they would put his hand on a guitar and he could feel the vibrations. 
Seth: This gentleman right here, his name is Peter Yarrow from Peter Paul and Mary.
Shefsky: And music has brought Seth to some of his proudest moments. 
Marla: And he got so excited with any kind of music that we took him with us to a Peter Paul Mary concert.
Shefsky: When the legendary folk trio noticed 16-year-old Seth in the audience enthusiastically signing along with their songs, they invited him to do his sign language onstage. 
He's performed with them now for 15 years. 
Watch Seth Goldberg perform with Peter Yarrow below:
---
Seth: And this gentleman right here, which I am very, very pleased with this, with Josh Groban. 
Shefsky: Josh Groban is Seth's favorite singer. About a year ago Seth began to dream about sharing the stage with him. 
Seth: When I first heard that he was coming to Chicago, I was trying to find who his management is. 
Shefsky: Seth may be disabled, but he knows his way around the Internet. And he's persistent. He found Josh Groban's manager online.
So in the summer of 2013, at the Ravinia Festival in front of thousands of people—and nearly that many cellphone cameras—Seth joined his idol onstage.
Seth's parents were in the audience beaming of course. But they were in for a surprise. 
They thought Seth would only be on stage for this one song and they didn't know that Seth and Josh Groban had secretly planned an encore especially for them.
Marla: All of a sudden, out comes Seth.
Seth: He wanted it to be a surprise for my parents because "You raise Me Up" is a very, very powerful song. 
It's talking about somebody raising that person up and helping them walk through the storming seas. I've had people help me over their shoulders, they've helped raise me up.
Below, watch Seth perform with Josh Groban.
---
Marla: When you have a child, you just want the best for them regardless of whether you gave birth to them or not. Having a disabled child, you work even harder.
You want it so badly for them. 
Seth surprises us every day. He does such amazing things that in my wildest dreams I never thought that this would happen. 
Shefsky: For "Chicago Tonight," this is Jay Shefsky.
---
Related stories: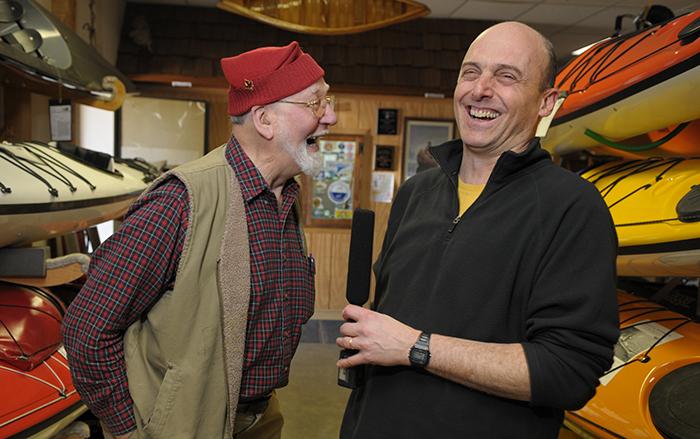 Find more of Jay's stories about Chicago people and places right here.
---