We take a look at community residents who are getting trained to help construct the new Malcolm X College.
---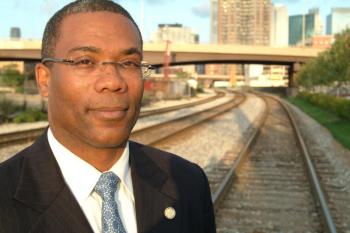 Read an interview with Ald. Walter Burnett Jr. (27th) about the construction project's effect on his ward and view a slideshow of renderings.
What was your initial reaction to the building of the new Malcolm X, and the plan to hire community workers?
I was ecstatic and it's something I had been trying to do for a while, but no one has been as forthcoming as City Colleges of Chicago and this Malcolm X project.  I think it's ironic that they are going through the school to get this training so they can be professionals. I think it all feeds into City Colleges' philosophy of instead of giving people a fish, teach them how to fish; prepare them for the jobs of tomorrow.
What has the response been from members of the community?
I think initially when we first announced it and they put out the first classes, a lot of people didn't believe it. When something is free, people sometimes question if it's real. So, we were having challenges filling the classes. Now everyone wants to get involved now that they see there's not a catch. They see this as a positive thing and something that will give them sustainability. They can be proud of it; it's not a one-time hit.
One thing we initiated is that City Colleges would pay for bus fare. One challenge we faced was they were offered free school but didn't have a way to get there. Once they [City Colleges] gave free bus fare and free bus cards, I think that sealed the deal with the community.
Have you met any of the community workers that are going or have gone through the training program? What was that meeting like?
It's been great. When they did the groundbreaking, an older gentleman in his 30s from the ward, spoke. He talked about learning the trade and taking what he's learning to start his own construction business. He's currently going through the construction management program at Dawson Technical Institute. I'm happy they're getting them into school and getting them around people with goals.
What is your response to criticism that says this project is not enough to help the community and that Mayor Rahm Emanuel needs to do more?
Well, I think we need to take it a day at a time. There are other projects coming up. Once these people get trained, they will have opportunities to work on other projects. One challenge with getting our people on construction contracts is people are not skilled. Now that people are getting skilled, they can go on to other jobs. Right now, we have a foundation contractor. There will be other opportunities when they start building the walls, etc. so they'll be looking to get more people on the site. It's just a matter of time; this is just the beginning.
Is there anything different you would like to see done with this project and others like it, in terms of how it's affecting the community and your ward?
I would just like to see more people go through the training, whether they get on at the Malcolm X site or not. I would just like to see more people taking advantage of these free training opportunities. That helps me to help them. It puts them in a position that's hard to deny them, if they have a skill.
Interview has been condensed and edited.