Besides the main arteries of museums and galleries, the Chicago area has endless capillaries of creativity.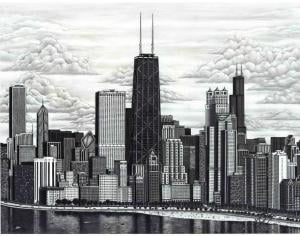 Twice in recent months, colleagues at WTTW have told me about a talented graphic artist they discovered at the Swap O Rama in Alsip. Yes, the Swap O Rama -- that year-round flea market with 3 locations (the other two are in Melrose Park and on South Ashland Avenue).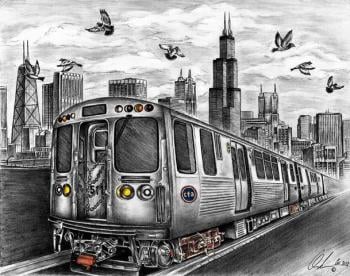 Each weekend at Booth 144 in the Alsip Swap O Rama, you'll find Omoro Rahim selling very reasonable prints made from his original drawings. Prices generally range from $20 for an unframed print to $50 for a framed edition.
That's a bargain for incredibly detailed works made with passion and dedication. "I've been drawing since I was 7 years old," the 36-year-old draftsman told us. "And I spend months on each drawing."
Omoro focuses specifically on pencil drawings. "They're my specialty," he said. "There aren't too many people doing this, and I see it as a niche." Sometimes he adds a touch of color, but more often the works are 50 shades of graphite.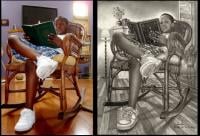 He usually works from photos, and subjects include President Obama, his son reading a book, leaders in the Nation of Islam, a litter of puppies, and especially his beloved hometown.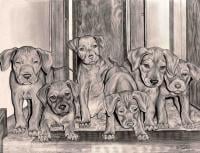 Omoro Rahim doesn't have a website at the moment but you can find him on Facebook and Twitter. Read through his posts and you'll discover an inspired person with a love of pencilwork and positivity.
And while Omoro Rahim may or may not end up in a museum someday, he represents a creative vein that runs deep in the region and should be appreciated wherever it's found.