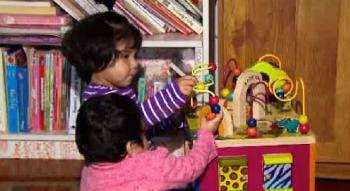 At 39 percent of the child population in Chicago, under age 5, Latino children are a rapidly growing part of the community. Experts say while those children present social, emotional and linguistic strengths, they fall behind other students when starting school. But, a focus on early education can give those young learners a boost before preschool.
During playtime in the Gutierrez household, 2-year old Lily has plenty to keep her occupied while little sister Emma reads a book with their father, Miguel.
Attending school may be a few years off for the sisters, but mom Yuri wants to make sure that when they do begin, they're fully prepared for their first day. That's why she signed them up for an Early Head Start Home Visiting program that targets children under age 3.
"I knew a little bit, but once they started coming in, I learned a lot more about the way they think," said Yuri.
Now the Gutierrez family has regular visits with a worker from Gads Hill Center's Early Head Start program to make sure the girls are learning, even at this young age.
"They tell me a lot that they need to read. Reading is very important. And right now, at their age, they absorb everything, so reading and just teaching them words," said Yuri. "One thing that helps is that we're bilingual and the teacher is also bilingual, so we talk to them both in English and Spanish."
Yuri explains the home visitor comes three times a month with ideas to help Yuri learn what she can do to help her daughters. She says at first she was reluctant to join the program.
"What convinced me was that they came home, and with other programs that I heard about, they don't," said Yuri. "Because here they feel more comfortable."
And this is where researchers say more investment is needed: in early, birth to age 3, education for the Latino community.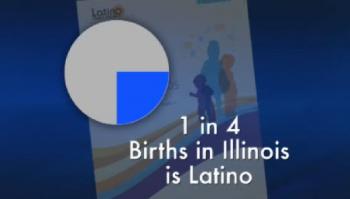 "Home visiting programs are generally targeted toward those families who are most at risk for adverse outcomes, like teen parents. And home visiting can begin prenatally to coach and equip young parents in how to support their child's health development," said Jacob Vigil.
Vigil is the author of the study, Primeros Pasos, written for the Latino Policy Forum. He says one in four births in Illinois is Latino, and the report is designed to shed light on the unique challenges in the community.
"In Illinois, 60 percent of Latino children are classified as low-income and about a third are living in poverty, and that's probably one of the main predictors of a range of adverse outcomes in education, particularly in education," he said.
Early education advocates say because young minds are like sponges, making sure they receive quality learning experiences is critical.
"Babies are born learning with brains that are primed to understand and explore the environment around them. So, back in the old days we used to talk about nature versus nurture. Now it's very, very clear that the environment shapes the architecture of the brain from the earliest ages. And so we really have to attend to the kinds of environments that our youngest and most vulnerable children are in," said Ounce of Prevention Fund President Diana Rauner.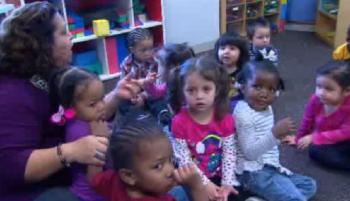 Gads Hill Center's Associate Programs Director Azucena Gonzalez says that sometimes parents themselves aren't educated enough to prepare their children for those first days of school.
"We actually had some parents who were illiterate in both languages, so showing them techniques as walking through a picture book and things like that that they can do, it empowered them and helped them not feel bad about certain limitations they might have for whatever reason, and also we bring that support," she said.
Watch an extended, web extra interview with Gonzalez below:
And because an overwhelming majority of non-English speaking students in Cook County come from Spanish-speaking homes, the Latino Policy Forum Director Sylvia Puente advocates a need for more bilingual, home visitors in the community.
"And what we're seeing is that there really is a dearth in that pipeline in that we don't have enough people coming into the field who are bilingual and biculturally competent. And we really need the field to be paying more attention to recruit those people into the field so that services can be provided," said Puente.
The report emphasizes that early home-based programs are an introduction to community programs, like those offered at Gads Hill Center. Providers say families are more likely to learn about the importance of early education and then seek out early Head Start programs outside the home.
Meanwhile, advocates say they'll have to convince lawmakers, educators and service providers to increase those services in the community.
Researchers at the Latino Policy Forum say the Latino population isn't just growing in the city, but also in the suburbs.
---
For information on finding a home visiting early education program in the Chicago area, see the contacts below.
Home Visiting Contacts:
Teresa Kelly –Governor's Office of Early Childhood Development (312) 814-0905, e-mail:

[email protected]

Andrea Palmer – IL Dept of Human Services (312) 793-7957
Cindy Zumwalt – IL State Board of Education (217) 524-4835
Mattie McLaurin – City of Chicago (773) 535-4527