English sculptor Sir Anthony Caro died last week at the age of 89. This was big news in the international art world, where his abstract works created a new language for the medium. In Chicago, it wasn't news. The local papers grabbed their reports from wire services, so we learned that Caro's father was a stockbroker, but not that the city is home to one of his monumental works.
Sometimes Caro's sculptures were small enough to fit on a tabletop. Other times they were monuments of modernism. They could be made of paper, ceramic or rusted steel. He was as much an engineer as a sculptor.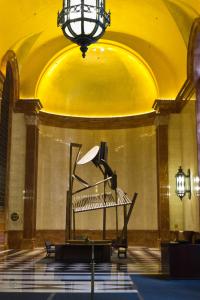 Caro has one prominent work in Chicago -- the 28-foot high bronze Chicago Fugue in the lobby of the building at 190 S. LaSalle St. under a gold-leaf ceiling.
I attempted to shoot some fresh photos of the sculpture, but security guards wouldn't allow it. "The new owners don't want no pictures." Okay.
I'd suggest to the new owners that they free the sculpture and let the public enjoy it. It'd make a nice addition to Millennium Park – the sculpture resembles an assemblage of musical instruments, and Caro worked with Frank Gehry around the time he made the sculpture, 1987 (the same year he was knighted).
Luckily, I found a free image of Chicago Fugue on the internet, but I wish there was a person in the photo to give you a sense of scale. It's 28 feet tall.
Early in his career, Caro was an assistant to another great English sculptor, Henry Moore. Moore also made his mark on Chicago -- his sculpture Nuclear Energy is seen below on the campus of the University of Chicago with the Mansueto Library behind it.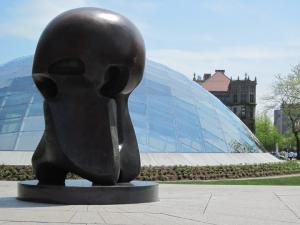 And Anthony Caro and Henry Moore have another connection. They both received the Order of Merit bestowed by Queen Elizabeth. When Sir Anthony Caro received his OM in 2000, he was the first sculptor to be awarded since Henry Moore in 1963.
Rest in peace, Sir Anthony.