The video cannot be displayed.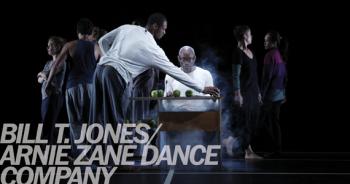 Two-time Tony Award winner, MacArthur genius, and maverick of modern dance Bill T. Jones joins us for a conversation about storytelling through movement and music. The Bill T. Jones/Arnie Zane Dance Company will perform Story/Time, a show in which Jones will perform a series of autobiographical one-minute micro stories, Thursday, October 24 - Sunday, October 26 at The Dance Center at Columbia College.
Read an interview with Peter Carpenter, associate professor of dance at Columbia.
Bill T. Jones has performed at The Dance Center, either solo or with The Bill T. Jones/Arnie Zane Dance Company, in all four decades of its existence. What impact has Jones' performances had on Columbia's Dance Center over the years?
I think he is a very accomplished and prolific artist, and it's great that we've been able to keep an ongoing conversation going with him at The Dance Center. Bill T. Jones brings a really unique viewpoint to the stage, which he draws from his own experiences.
What do you think makes him such a legend in the world of dance?
I don't want to use the word legend, because that makes it seem like he's not still producing great work today, which he is. When I see a Bill T. Jones perform, I am always interested to see what's next. You don't always know what to expect next, and that's a pretty amazing thing to keep accomplishing for the length of time that he has.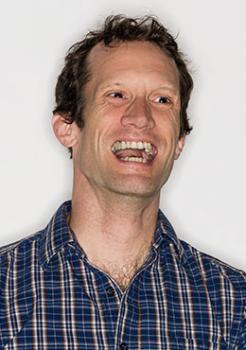 In what ways has he been an innovative force in modern dance and choreography?
I think one of the reasons he's been so successful and remarkable in his career is that he was really at the forefront of bringing issues of politics into the world of high art. I find him innovative for the kind of social issues he's been able to bring into that world. 
In the height of the AIDS epidemic, lots of dancers were sick with HIV and AIDS, and no one was dealing with issues of sexuality on stage at all. Even though it was a homophobic moment in the world of dance, he did not avoid those issues. Bill did not shy away from intimate partnering between two men, and I think it was a really extraordinary statement at the time.
I remember, as a young queer man, sitting in the audience at a performance of his in the '90s and being overwhelmed that there was a dance artist that spoke to the world I was living in and participating in. He makes dances about people in ways that really challenge the status quo.
In what way does he represent significant issues on stage?
Since the '80s and '90s, his casts have always been very diverse. They are racially diverse, and they include different body types. The text during his performances also deal directly with issues of racism, freedom, gender, power, and sexual orientation. One of his early breakout works, Dancing to the Promise Land, was an adaptation of the slave narrative, Uncle Tom's Cabin.
Do young dance students still look to his work for inspiration?
Absolutely. I definitely teach him in my dance history and choreography classes. When he was here last, in 2011, he came to visit my dance history class, and it was really amazing. The students got so much out of his visit. In a short amount of time, he was able to challenge their thinking and get them to come up with new ideas. I think they really fell in love.
What can people expect to see at this week's performance at Columbia's Dance Center?
I haven't seen the whole work yet so I'm just as excited as anyone else. You'll see him perform on stage, which he hasn't done in a long time. He hasn't been in his own work in years, so this is a really big deal.
Interview has been condensed and edited.
---
Watch a web extra video clip of Jones and the Arnie Zane Dance Company perform in Story/Time at The Dance Center at Columbia College: