Once at the Oriental Theatre, a 3-D film about "space junk" and lots of desserts at Navy Pier; Chicago Tonight knows what's going on this weekend.

Chicago International Film Festival


This year marks the 49th anniversary of the Chicago International Film Festival. Presenting 80 films from 60 different countries, the Chicago-based event is the oldest competitive international film festival in North America. This weekend, the festival, which prides themselves "in championing young filmmakers and daring visions, and also in presenting the latest from the masters of world cinema," will showcase a diverse collection of films from all around the globe. The festival runs October 10- 24, and all screenings take place at AMC River East 21. For a schedule of this weekend's shows, click here.
AMC River East 21

322 E. Illinois St.
Chicago, IL 60610


(312) 596-0333
Take a trip to space this weekend by checking out Space Junk 3D at Adler Planetarium, a film about a pollution problem in earth's orbits. Narrated by Academy Award nominee Tom Wilkinson, the film looks at why thousands of pieces of debris or "space junk" that orbit the Earth present a serious threat to both astronauts and satellites in orbit. During the 3D journey, audiences travel inside a meteor crater, and get a view of our increasingly crowded orbits. Produced by Melrae Pictures and distributed by K2 Communications, the film is currently playing in museums across the country. The show is open on Friday from 9:30 am to 4:00 pm, and Saturday and Sunday from 9:30 am to 4:30 pm. A basic pass to the museum, which costs $22 for adults and $18 for children, will grant visitors access to the show. For more information, click here.
Adler Planetarium

1300 S. Lake Shore Drive
Chicago, IL 60605
(312) 922-7827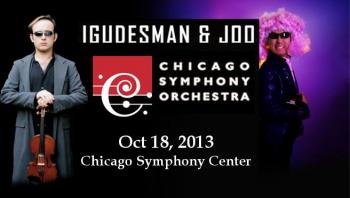 Igudesman & Joo: Big Nightmare Music
This week on Chicago Tonight, classical musicians Igudesman and Joo, joined us in advance of their upcoming performance with the Chicago Symphony Orchestra. This weekend, fans of the comedic duo can see them live in their signature show, Big Nightmare Music at Chicago Symphony Center. During the concert, the YouTube sensations will team up with the symphony orchestra to perform sketches and favorites, like Mozart Bond and Alla Molto Turca. The concert takes place October 18 at 8:00 pm, and tickets cost from $30 to $120.  For more information, click here.
Chicago Symphony Center
220 S. Michigan Ave.
Chicago, IL 60604
(312) 294-3430

In its Chicago debut at Oriental Theatre, Once by Irish playwright Enda Walsh tells the story of a struggling street performer in Dublin who crosses paths with a young Czech immigrant who takes an interest in his love songs. Chicago Tribune theater critic Chris Jones called the Tony Award-winning show an "exquisitely crafted, gorgeously resonant and wholly not-to-be-missed Broadway musical that has arrived in Chicago for just three weeks." In another positive review of the play, which is based on the 2006 film starring Glen Hansard and Marketa Irglova, Chicago Sun-Times theater critic Hedy Weiss called it "a modern musical fairy tale, with a real-life (so not entirely happy) ending." Tickets to the play, which runs through October 27, cost from $27 to $95. For more information, click here.
Oriental Theatre
24 W. Randolph St.
Chicago, IL 60601
(312) 977-1700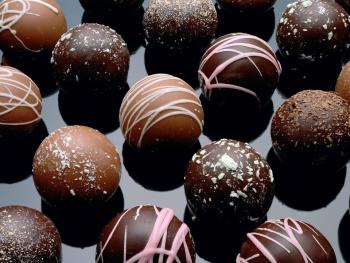 Chicago Fine Chocolate & Dessert Show
Those with a sweet tooth should head to Navy Pier this weekend for the second annual Chicago Fine Chocolate & Dessert Show. The delicious event includes seminars, live pastry demonstrations by French Pastry School, a Chocolate Art Gallery, a live cupcake competition, 150 chocolate and dessert companies, and a beer and wine pavilion. The Chocolate & Dessert Show takes place on Friday, October 18 from 3:00 pm to 8:00 pm, Saturday, October 19 from 10:00 am to 9:00 pm, and Sunday, October 20 from 10:00 am to 6:00 pm. General admission tickets cost $25 for adults and $10 for children. For more information, click here.
Navy Pier – Festival Hall A 

600 E. Grand Ave.
Chicago, IL 60611
(312) 595-7437