A delicious documentary with notes of humor and suspense, Somm follows four men preparing for the annual test before the Court of Master Sommeliers. Among wine stewards, they long to be the elite.
There are just 211 Master Sommeliers in the world. Former Check, Please! host (and proprietor of The Boarding House restaurant) Alpana Singh is one of them. Somm sheds light on this somewhat mysterious organization. You'll also learn a little bit about wine and a lot about about obsession.
And there is sumptuous cinematography. Watch the trailer and see if it doesn't send you searching for a bottle and an opener.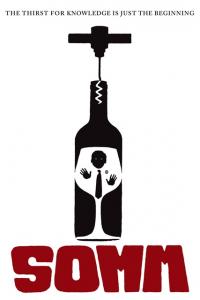 Somm is also very much about the creative use of language. It's great fun to hear the tasters rattle off descriptions of the wines they're evaluating. "Earthy-oaky-freshly-opened-can-of-tennis-balls…" They spit out words faster than they spit out wines. (There's also a short bit about "spit buckets." Put down your stemware for this scene.)
Somm was just released on DVD by First Run Features and is available for download on iTunes. There are also seven copies at suburban libraries, from Tinley Park to River Forest, and one copy in Chicago's Bucktown-Wicker Park branch. Most of them were checked out as of this writing.
I'd argue that the only thing missing in this enjoyable documentary is Alpana Singh -- Master Sommeliers have historically been a male-dominated group, and I wish we had heard more from a woman about that fact.
So get your hands on a decent bottle of red or white, watch the Check, Please! season premiere at 8:00 pm, and wash it down with a viewing of Somm.