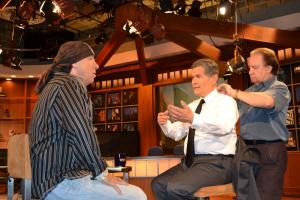 Famous people can be aloof. All that attention can make them guarded and eager to get back to their private world, away from publicists and producers.
Steven Van Zandt is a shining exception. Last week, Van Zandt visited WTTW, and he was one of the nicest, most generous guests I've ever encountered. Polite, relaxed and funny, he looked you in the eye and listened closely. Want to take pictures? Sure. Ask extra questions for the web? No problem. Anything else you need? No hurries, no worries.
Van Zandt earned his fame as a team player -- guitarist for the E Street Band, cast member of The Sopranos. He's so easygoing that it's no wonder why people seek his company. When he organized Artists United Against Apartheid in 1985, he quickly signed up Miles Davis, Bob Dylan, Run-D.M.C., Pete Townshend, Ringo Starr and dozens more.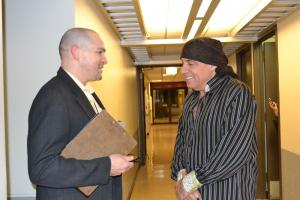 Many years ago when his pal Bruce Springsteen was still trying to emerge from the New Jersey bar scene, Steven worked the oldies circuit. He toured the country, playing guitar in bands like The Dovells ("Bristol Stomp," You Can't Sit Down") -- bands he loved as a kid that were no longer in fashion.
He has a long history of lending a hand -- or a guitar or a voice -- to artists who need a boost. He recorded Ronnie Spector in the 1970s, wrote and produced comeback albums for Gary U.S. Bonds, and now he's doing it all for the Rascals, a criminally under-appreciated rock and soul band from New Jersey.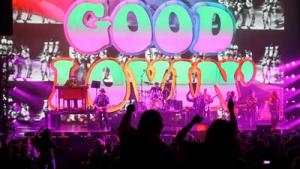 It wasn't enough that he reunited a band that had been apart for 40 years. Van Zandt wrote and co-directed Once Upon a Dream Starring the Rascals, the concert/musical currently on tour. (The consummate multi-tasker, he also has a new TV show Lilyhammer that shoots in Norway, hosts the radio show Little Steven's Underground Garage, and tours the world with the E Street Band.)
One of Van Zandt's favorite memories is seeing the Rascals as a teenager. Van Zandt also saw the Beatles and the Rolling Stones back then, and he's quick to tell you that the Rascals were better.
They scored #1 hits with the irresistible "Good Lovin'," the blue-eyed soul of "Groovin'" and the anthemic "People Got to Be Free." Then there was "Lonely Too Long," "It's a Beautiful Morning," "How Can I Be Sure," "You Better Run" and 20 other songs that should have been just as big.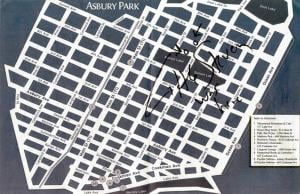 The Rascals haven't played Chicago since Richard Nixon was in the White House. They're back for five shows at the Cadillac Palace Theatre starting November 5th. It promises to be a spectacle -- it was co-directed by lighting wizard Marc Brickman, who's designed light shows for Paul McCartney, Pink Floyd and the Olympics.
One more thing about Little Steven Van Zandt -- I have a map of Asbury Park, NJ in my office (long story short - I'm a fan). I showed it to Van Zandt and asked where he used to live.  He took a pen and said "May I?" He circled one spot. "I had an apartment here." Then he circled a spot a block away. "And me and Bruce shared a place here." Then he laughed and signed it "Little Steven Was Here."
The guy sure knows how to make a big impression. Don't miss him on our show tonight. You can also see a gallery of images from Van Zandt's visit to WTTW and watch a web extra conversation with him here.