A truly fine and mature album was released this week by a Chicago rock band that calls itself Clara May.
You can hear the record – American Desi -- but you won't see the band anytime soon. One of their lead players is serving in the U.S. Army in Afghanistan; Lt. Phillip Amerson won't be back in the States for at least six months.
American Desi features an arc of textured songs filled with grooves that range from delicate to downright heavy. They follow a character "wowed by the American dream" and his journey from South Asia to L.A. to the Midwest.
The song "Badlands" (no relation to the Springsteen tune) grew out of "wanting to represent what an illegal immigrant feels like in a new culture," says the band's front man, Tom Silva. Yet the song doesn't come off as didactic. The message is subtle but the riffs are booming.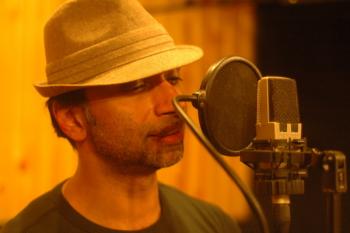 The songwriter and vocalist Tom Silva grew up in Malaysia, where his family had emigrated from the state of Kerala in India. He came to Chicago in 1990 to study film at Columbia College. Now he's pursuing his master's degree in South Asian identity at the University of Chicago.
Silva has an ear for detail and a distinctive voice. His baritone is reminiscent of David Bowie, but he doesn't come off as imitative. He told us he loves Bowie and Robert Plant but grew up listening to "young Pavarotti, Jose Carreras, or any opera singer with tremendous control."
What American Desi ultimately says is: "Be yourself and honor who you are." Silva sees it as a call to immigrants to "assert themselves as people who deserve dignity and respect."
You can listen to the lyrics or simply get swept away by the strong musical tide.
[NOTE: Clara May's first single was recently featured at Rolling Stone India.]