The video cannot be displayed.
It started out as a fictitious pie shop Paula Haney would dream of with her husband Craig. Now, Haney has opened the Hoosier Mama Pie Company in Chicago and is looking to expand. In her new retro-style cookbook, Haney wants to share her love for pie with more than 120 pie recipes ranging from lemon meringue to frito-chili pie. View a slideshow and check out one of the pie recipes below.
Hoosier Sugar Cream Pie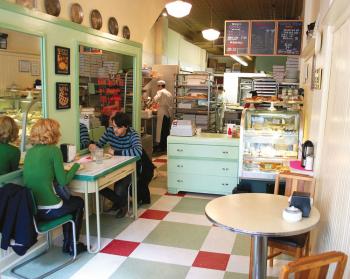 The recipe for sugar cream pie traveled across the prairie in covered wagons with the earliest settlers of the Indiana Territories. According to pie lore, it was a great favorite of pioneering farm wives, who, to avoid washing utensils or a bowl, would throw the few staple ingredients in an unbaked pie shell and mix with their fingers before rushing back to their work in the fields.
At Hoosier Mama, we pre-bake the pie shell and use utensils, but the basic recipe—cream and sugar thickened with a little flour—remains unchanged. It is a homely pie by any standard and it languished in the pie case until we started handing out samples. Now it's a customer favorite.
The flavor is wonderful—somewhere between crème brûlée and melted caramel ice cream, depending on the exact recipe. Recipes are closely guarded and passed down from generation to generation, with each family claiming their recipe is best.
Ingredients
Makes one 9-inch (22.5-cm) pie
1 single-crust, blind-baked pie dough shell
½ cup granulated sugar
½ cup dark brown sugar
2 tablespoons all-purpose flour
pinch kosher salt
2 cups (474 mL) heavy cream
1 teaspoon vanilla paste
confectioners' sugar, for dusting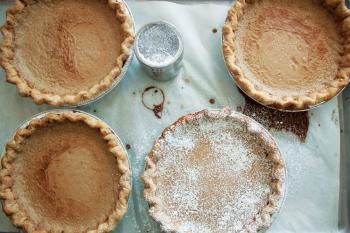 1. Preheat the oven to 400°F (200°C).
2. Place the pie shell on a baking sheet. Set aside.
3. Combine the granulated sugar, brown sugar, flour, and salt in a medium bowl. Mix with a whisk or your hands to break up any clumps and to combine ingredients.
4. Gently stir in the heavy cream with a wooden spoon or spatula. Do not overmix. Whipping the cream will prevent the pie from setting.
5. Stir in the vanilla paste.
6. Pour the filling into the prepared pie shell and bake for 20 minutes.
7. Rotate 180 degrees and bake for 20 to 25 more minutes, until large bubbles cover the surface. The pie will not appear to be set when it comes out of the oven.
8. Cool to room temperature, then chill in the refrigerator for at least 4 hours, up to overnight, before slicing. Dust with confectioners' sugar before serving.