The video cannot be displayed.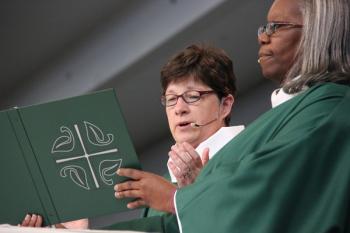 In August, Bishop Elizabeth Eaton became the first female presiding bishop of the Evangelical Lutheran Church in America, a four-million member denomination. Bishop Eaton will be installed as presiding bishop this Saturday, October 5 in Chicago. The installation will be at Rockefeller Memorial Chapel at 2:00 pm, and a video stream will also be available on the ELCA's website. In November, she will move to the national office in Chicago and begin her six-year term.
Read our interview with Bishop Eaton below.
How did the election work? Did you put yourself up for nomination?
We have something called the ecclesiastical ballot. The voting members on the first ballot, you write down any pastor in the ELCA. All clergy are eligible, and when the results come up, whoever is mentioned on that first ballot is up for the second ballot. However, whoever doesn't want their name to appear can take their name off the ballot at that time. So, we don't campaign. I was considering removing my name if it came up after the first ballot, but I let my name go forward. My spiritual director said who am I to doubt the Holy Spirit? So I let it go forward to see what would happen.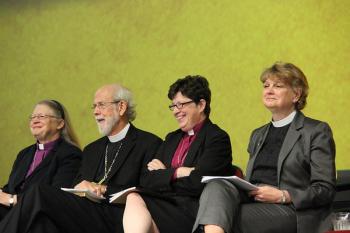 What does it mean both personally, and for the church, to be the first woman in this role as presiding bishop?
Personally, I don't get the hoopla. My parents raised me to believe anything is possible. I'll be happy for the day in this country when the first woman anything isn't news. After my election, I had one man come up to me and said he wanted my autograph for his 8-year-old daughter because he said it was really important to her. I realized that I grew up in a privileged position, but to some people in this country and around the world, a woman in authority is something that does make a difference to people.
For some people, this is not a news story because a lot of people knew it was the work of the Holy Spirit, so gender is not an issue where that is concerned. But this is a demonstration that we really mean when you are called to serve, gender isn't an issue. All are one in Christ Jesus, so maybe this is a clear demonstration of that.
What are some of your top issues to address in your new role as presiding bishop?
Congregations, that's where we are planted in neighborhoods and communities, so anything we can do to strengthen that is important. Also, if we don't know who we are, how can we have a significant conversation with others? We must reclaim our Lutheran identity, that is really important. I think you're going to bring this up later, but we took a decision in 2009, so we are trying to work and to heal that. Also, when we say we are inclusive, that has to mean we are including people that are partnered gay folks but also people who don't necessarily believe that.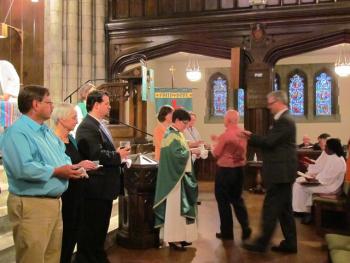 How did you address the anger and confusion in your congregation after the 2009 decision to allow gay clergy to be ordained? The church lost 600,000 members after the decision.
Gay clergy members have always been ordained since the history of the church, but now partnered gay clergy that are not celibate could now serve in the church. In my synod, we lost 17 congregations, which means I spent a lot of time meeting with angry and really frightened people who thought we were going through this terrible recession and they were worried about their job security, and now the church was going through changes as well. As Lutherans, we can disagree as long as we agree on Jesus' salvation and resurrection, and we must listen to their anguish. Our take is that when God said everyone, he meant everyone could serve.
You've mentioned before that listening is key in increasing relevancy and building the church's membership. What do you mean by that?
I think especially after the second World War, going to church became an expectation. Now the world is changed. It's not because we are bad people, but for us to assume people want to hear anything we have to say is not a good idea. But how we listen to people on what gives their life meaning and what gives them joy, we can form a relationship with them and say that God is present in all parts of your life, even in times of darkness. We must also have a stance of humility.
How do you build diversity and target younger members?
I was just recently traveling through Toledo and they have a program there, Abundant Life Together, so students coming out of high school who are still deciding what to do with their life, either a job, military, or college, can go for a year of faith formation.
It's not a Real World, we aren't filming it, that'd be too messy. We are engaging these folks and having them reflect on "what's next?" That's just one way, again, we just need to go where the young people are and listen to them.
Interview has been condensed and edited.