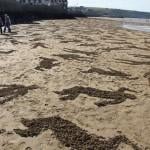 A massive art project is already gone but not so easily forgotten.
Two English artists enlisted a team of volunteers to "attack" a beach in Normandy, France, site of the Allied invasion of Nazi-dominated Europe. The beach assault on June 6, 1944 became known as "D-Day" and has been immortalized in books such as The Longest Day, and films like Saving Private Ryan. It marked the beginning of the end of Hitler's Germany.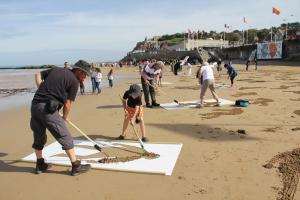 Last week on International Peace Day, artists Jamie Wardley and Andy Moss landed in Normandy on a mission of remembrance. They placed life-sized stencils on the smooth beach and used rakes to rough up the exposed sand. Removing the stencils, they were left with an impression of a casualty. They did this 9,000 times across the beach, representing the 9,000+ Allied soldiers, German soldiers, and French civilians who died that day. They called it "The Fallen."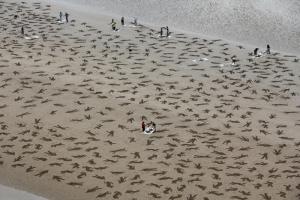 Shooting photographs from the nearby cliffs where German soldiers once manned machine guns, the epic sweep of the project -- and the devastation of just one day of World War 2 -- came into focus. The representations of human lives are dwarfed by the sea, and the sand and the miltary hardware left behind nearly 70 years ago.
But the tides and the wind began to erode this endeavor even as it was being completed. By 10:00 pm, the figures were dissolved by the sea water and gone forever.
The artists are based in Bradford, in Northern England, and they call their projects "Sandinyoureye." They work mostly with sand or ice as a medium. I reached out to them over the weekend but haven't heard back yet. I reminded them that Chicago has plenty of sand in the summer and ice in the winter... I'll keep you posted.