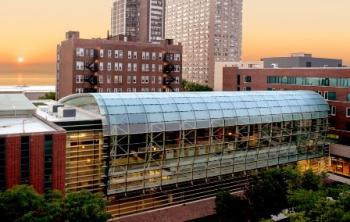 More universities these days are offering courses and degrees in environmental studies, but one university in Chicago has gone a step further. In Chicago's Edgewater community, Loyola University has constructed a building that not only focuses on environmental science but is designed to demonstrate what sustainability is all about.
Whether it's a sun-drenched day or one filled with rain, the glass-draped building is designed to welcome whatever nature has to offer. It's the new Institute of Environmental Sustainability at Loyola University, and it's a breath of fresh air on a traditional college campus.
"First of all, we wanted a facility that would be a learning facility so that students could learn many different skills, but we also wanted the building itself to sort of walk the walk. In other words, we wanted this building to be the most environmentally and energy-efficient as we could possibly get," said Nancy Tuchman, Founding Director of Loyola's Institute of Environmental Sustainability.
What Loyola got was a building that is very much enclosed and yet takes in the outdoors all around it. Beginning with what falls from the sky.
"This facility that we're in here, this greenhouse, has a very large dome that collects all of the rainwater from the dome, and it is stored in an underground cistern that's about 3,000 gallons," said Tuchman. "We use that rainwater to flush some of the toilets in a couple of facilities on the first floor, but we also use it up here in the greenhouse to water many of the plants, so that students can look at different experimentation with using rainwater versus using potable water."
The new building was designed by the Chicago firm of Solomon Cordwell Buenz, and the architects delivered a facility that takes the phrase "environmentally friendly" to new levels.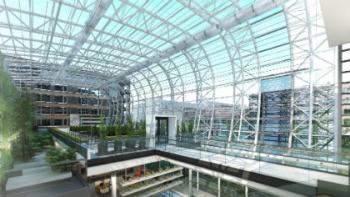 In addition to the top floor greenhouse which has just begun to sprout, students and visitors can observe some of the other ways the building is self-sustaining. Glass panels on the main floor expose the geothermal system below that heats and cools the building. Thermometers register the temperature of the water flowing up from 500 feet in the ground. Indoor gardens are the work of students who have planted harvestable vegetables. There's also a three-story high trellis where hops is growing that could yield a nice batch of beer at some point.
But the institute is meant to be both educational and functional. Take, for example, large tanks in the greenhouse.
"This is called Aquaponics, and it's an urban form of agriculture where you can grow fish, and we will be growing tilapia," said Tuchman. "We ultimately want the students to get us certified with the Department of Health so that we can sell the tilapia to the Engrained Café, which is one of the cafeterias right here in this building. So we're hoping that we can produce food hyperlocally, so that the students can grow it upstairs and eat it downstairs."
The student cafe already sells locally harvested and produced foods, and students dine on furniture made from trees that have all come from Cook County. But the building is first and foremost a school where traditional classes with traditional microscopes can be found.
It's also a facility where important research is being done: everything from the study of invasive species in the waters of Lake Michigan to the impact of toxins on the Chicago area ecosystem.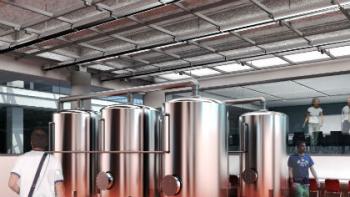 The Environmental institute also has a money-making component in the form of a Biodiesel Producing Plant.
"The machinery behind me is chemically processing used cooking oil, so oil that's coming out of deep fryers and folk's kitchens, and we're turning it into biodiesel which is an alternative fuel, which is a direct replacement for petroleum diesel," said Zach Waickman, Biodiesel Lab Manager at the Institute of Environmental Sustainability. "There's a boiler in the basement that runs on 100 percent biodiesel and adds heat into our geothermal system as needed in the dead of winter to make sure that this building can maintain a proper temperature inside."
The biodiesel facility also sells its product to the public and that product also includes a line of Bio Soap.
The Environmental Institute already has plans to expand. By next summer, the stretch of North Kenmore Avenue just south of Sheridan Road will be pedestrian-only, and students will be using the parkway as a farm to plant fruits and vegetables.
Area residents, as well as students, will be encouraged to help sow and harvest the crops that will replace the cars that currently line the street.
The new institute came with a price tag of $58 million, but its director says it will save money in the long run.
"While they're more expensive to construct at the beginning to make it LEED-certified for example, it has a very long term payoff in terms of energy efficiency," said Tuchman. "We use much less electricity and very little in the way of fossil fuels to run this whole facility."
And that's a lesson even those not enrolled at Loyola can learn from the new building.
Loyola's Institute of Environmental Sustainability is located on Kenmore Avenue just south of Sheridan Road in Chicago, and the main floor and cafe are open to the public.