The water sparkles around the boats on a beautiful day at the new 31st Street Harbor. The well-designed harbor offers good protection against Lake Michigan storms with its granite and volcanic rock breakwater, and the city views are fantastic. But the harbor is far from full.
"The occupancy is 32 percent right now. We just opened this harbor last year with a thousand new slips, and been able to attract 320 new boaters so far," said Scott Stevenson, vice president of Westrec Marinas, the private company that manages Chicago's harbors.
The question is: can the cost to build the harbor be justified with only a 32 percent occupancy rate?
"The harbor cost $102 million to build. Of course, today it doesn't justify it. But it will over time," said Stevenson. "This harbor will definitely fill up. It's a wonderful harbor."
Boaters who have chosen 31st Street are pleased with their choice.
"It's such a beautiful harbor, beautiful setting. It's close to everything that I like to go to - Navy Pier, the river, the Air Show, the fireworks," said Maynard Welch. "I mean, it's just a beautiful harbor."
"I've read a lot about 31st Street. I know it's a new harbor and it's beautiful, and I've just heard a lot of great things about it. And for me, I have a place in Michigan, so me coming from Michigan, coming up Stony Island and the South Shore side, it's just easier to access," said Joe Martin. "And the southern view of the city is the best. It's worked great. It's fantastic.
But the situation has changed dramatically since plans for the 31st Street Harbor were first drawn up in 1991. Then, there was a waiting list to get into Chicago's harbors.
Today, primarily because of the economic recession, there are open slips in all the harbors, except downtown's DuSable Harbor which is 100 percent full. The city's first harbor at Monroe street is only 65 percent full.
Longtime Chicago boatyard owner Grant Crowley says the supply of boat slips now exceeds the demand.
"The Park District put in 350 slips in the spring of 2011, a year before 31st Street, into Montrose and Belmont, Diversey and a few of the other harbors," he said. "They took out the inexpensive mooring cans and star docks that normally the beginner boater starts in, that are affordable, and replaced those with slips."
Crowley says at the same time that the supply of slips was being increased, the Park District was raising the costs of renting a slip dramatically. He says between 2006 and 2012, costs went up 38 percent.
"There was one year they raised it by 8 percent, and then there was a year they raised it by 3 percent. But also, the city added a 7 percent tax, so that was 10 percent," said Crowley. "And so, the other years it was 4 or 5 percent. So you have six years with one at 10, one at 8, and a bunch more. The cost of having a mooring in Chicago has skyrocketed."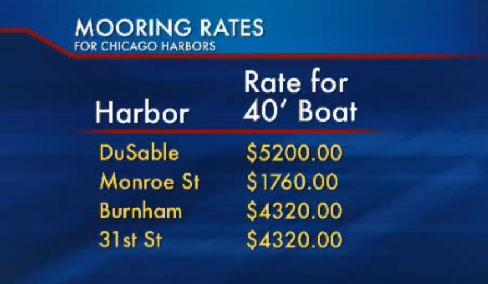 Mooring fees are calculated based on the length of the boat. The bigger the boat, the higher the fee. Today, it costs $4,320 to rent a slip at 31st Street for a 40-foot boat. That's less than the $5,200 cost at DuSable but a lot more than the $1,760 cost at Monroe Street.
31st Street's lowest occupancy rates are for boats 60 feet and over. There are 60 of those slips, but only about 10 are occupied.
Robert Nelson was the director of harbors from 1987 to 1993 when the harbors were privatized.
"When Daley and Claypool decided to privatize the harbors back in '93, the whole paradigm was changed. Prior to that, the marinas were looked at as neighborhoods, or at least that's the way I ran them, because they're all distinctly different from each other and that's the way they were," said Nelson. "The paradigm was changed to turn them into barracks for boats, like parking lots for cars, to charge as much money as you can to help out the budget of course."
Nelson says Westrec Marinas has an incentive to raise harbor fees because along with a management fee they get a percentage of the gross profits. Stevenson says he makes no apologies for Westrec's management of the harbors.
"Under our management, revenues in the Park District from harbors have gone from $5 million a year to $25 million a year, so I'll defend us that way if we need to," said Stevenson.
Stevenson says there are deals at 31st Street Harbor. Non-residents of Chicago don't have to pay a 25 percent surcharge that is added on for non-residents at all the other harbors. And he says they may lower the price next year to bring more boaters in.
"That's something that the Park District is looking at right now. The Park District budget and pricing will be announced in a couple of months. I'm sure that's something that's on the agenda to look at," he said, adding that his company is recommending it.
That's good news for boaters who would like to help fill the slips at 31st Street, but until now have found those slips way too pricey.
Chicago's harbor occupancy rates are less than those across the country. A 2012 marina dock survey found that half of the nation's harbors have over a 75-percent occupancy rate.
---