Sculptures in Grant Park, a craft exposition, and lots of dancing; Chicago Tonight knows what's going on this weekend.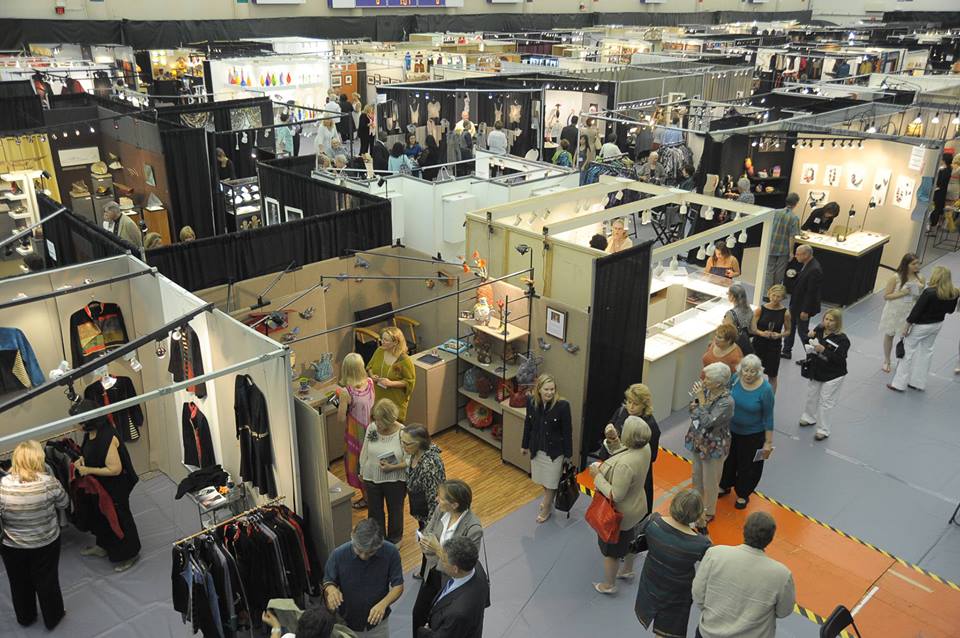 American Craft Exposition
Support a good cause while shopping for fine crafts this weekend at the American Craft Exposition in Evanston. Whether it's wood crafts, ceramics, glass or jewelry that you're looking for, this exposition has something that every shopper will enjoy. During the exposition, attendees will have the opportunity to chat with 164 craftspeople from across the United States, while browsing a diverse collection of unique booths. And it's all in the name of supporting a valuable mission. Proceeds from the exposition will support breast and ovarian cancer research at NorthShore University HealthSystem. The exposition takes place August 23-25 and is open from 10:00 am - 8:00 pm on Friday, 10:00 am - 6:00 pm on Saturday, and 
11:00 am - 5:00 pm on Sunday. Three-day entry for adults costs $15 at the door. For more information, click here.
Northwestern University: The Henry Crown Sports Pavilion

2311 Campus Drive
 
Evanston, IL 60208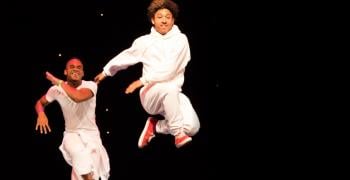 Chicago Dancing Festival
Dance fans have the opportunity to check out two exciting shows for free this weekend during the annual Chicago Dancing Festival. Since the festival was first established six years ago, it's mission has been "to present a wide variety of excellent dance, enrich the lives of the people of Chicago and provide increased accessibility to the art form." Friday's show, Solitaire - A Game of Dance (The Art of the Solo) takes place at 6:00 pm and 8:00 pm on the MCA stage at the Museum of Contemporary Art. Tickets for this event are available in the standby line, where any tickets that are unclaimed 10 minutes prior to curtain time will be released to those in line. The show will entail several performances including The Dying Swan (1905), performed by Victoria Jaiani of The Joffrey Ballet and Ensueños de mi Caribe (2012), presented by Julia Hinojosa
of Ensemble Español Spanish Dance Theater, with the live music by Paco Fonta, Flamenco singer and guitarist. Saturday's show, Celebration of Dance, takes places at the Jay Pritzker Pavillion at Millennium Park at 7:30 pm. No tickets are required for this outdoor performance and seating is available on a first-come, first-served basis beginning at 6:00 pm. The list of Saturday's outdoor performances include Interplay (1945), performed by The Joffrey Ballet, and the premiere of In the Beginning… (2013), performed by the Chicago Human Rhythm Project. For more information and a full list of performances, click here.
Friday: Solitaire - A Game of Dance (The Art of the Solo)

Museum of Contemporary Art, MCA Stage
220 E. Chicago Ave.
Chicago, IL 60611
Saturday: Celebration of Dance

Jay Pritzker Pavilion, Millennium Park
201 E. Randolph St.
Chicago, IL 60602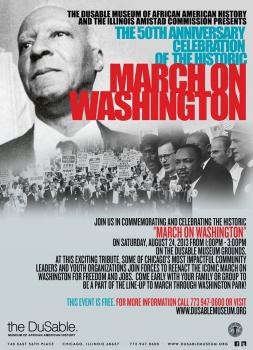 50th Anniversary Celebration of The March on Washington
This weekend, head to the DuSable Museum of African American History to celebrate the historic March on Washington for Freedom and Jobs. During the event, community leaders and youth organizations in Chicago will come together in Washington Park to reenact the march, which occurred 50 years ago on August 28, 1963. Guests at the event will include Bennett Johnson, originator of the 1963 March, and Jedidiah Brown of the Young Leaders Alliance. The tribute, which is free and open to the public, takes place on Saturday, August 24 from 1:00pm – 3:00pm.  On Saturday only, admission to the museum will also cost just $5. For more information, click here.
DuSable Museum of African American History

740 E. 56th Place

Chicago, IL 60637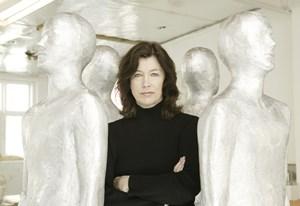 "Borders" Sculptures in Grant Park
This weekend, check out 26 new sculptures by Icelandic artist Steinunn Thórarinsdóttir that made their way to Grant Park on August 8. Describing the androgynous figures that are presented in the public exhibit, Sophia Lee of the Chicago Tribune says, "Although of human shape, with arms and hands, none of these figures is to be confused with Michaelangelo's David. Their faces are expressionless, their bodies genderless, their surfaces alien and coarse." The life-sized sculptures, which will be around until spring 2014, can be found in the Solti Garden on the northwest corner of Jackson and South Michigan Avenue. For more information, click here.
Grant Park

337 E. Randolph St.

Chicago, IL 60602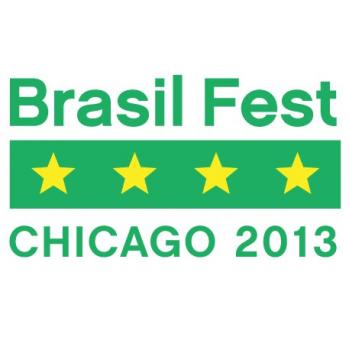 Brasil Fest
What better way to spend one of the final weeks of summer than outside at a street festival, enjoying music, food and dancing with friends? This weekend, Brasil Fest in Logan Square will give Chicagoans an opportunity to enjoy some delicious food, live music, dance performances, and workshops. On Friday, the event will kick off with a performance by the Paulinho Garcia Quintet at 6:00 pm, followed by a Zumba/Samba lesson with Tania Daley. Saturday and Sunday highlights include Samba lessons, a performance by Samba1 Brazilian Dance Group, and a Carnaval parade with bateria drum corps and dancers. The festival's primary goal is "to present and promote Brazil's remarkable cultural diversity through music, dance, art, culinary and more," and that definitely includes educating kids. Youngsters will have lots to do during the festival, such as face painting and crafts, soccer workshops, and Brazilian Jiu Jitsu workshops. The festival, which has a suggested $5 donation, takes place on Friday, from 6:00 pm to 10:00 pm, Saturday from noon to 10:00 pm, and Sunday from noon to 9:00 pm. Fore more information, click here.
Brasil Fest
3100 W. Logan, Blvd.
Chicago, IL 60647