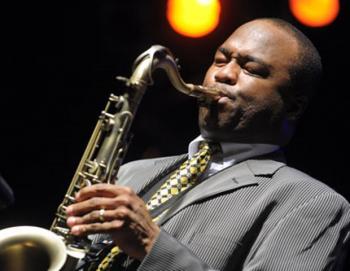 Saxophone great James Carter talks about his lifelong love of jazz and how he became an authority on vintage horns on Chicago Tonight at 7:00 pm. The Detroit native began playing the saxophone at age 11 and has mastered a number of instruments and played with many jazz greats. Carter is performing at the Pritzker Pavilion in Millennium Park on Wednesday as part of the Grant Park Music Festival. The Concerto for Saxophones was written specifically for Carter by noted Puerto Rican composer Roberto Sierra. Carter will be backed by the Grant Park Symphony Orchestra conducted by Carlos Kalmar.
Carter will also perform on Tuesday, August 20 at the Jazz Institute of Chicago's 11th Annual Gala at the Drake Hotel. We spoke about Carter's upcoming performance and the influence he has on young performers with Lauren Deutsch, executive director at the Jazz Institute of Chicago.
Why did you decide to ask James Carter to perform at the gala?
We have created a tradition of bringing in the best and most exciting young jazz musicians to play with our students, and Carter was on top of the list. He is going to perform with alumni from our Jazz Links Education program. All the musicians he will play with are in their 20s, and during the performance, everyone kind of challenges each other to reach higher heights.
Can you describe what his performance will entail at the gala?
We have asked him to perform his music with five of our alumni artists. We asked him for the instrumentation and he wanted a drummer, a bass player, a pianist, and a guitarist. He sent music in advance, so they've rehearsed. However, when he comes to rehearse with them before the show, the magic ingredient will be added to the performance, which is chemistry between him and the other performers.
What impact do you think Carter has on young people?
They're the "now" generation, and they're really watching and listening closely. Carter has created techniques and sounds that have never been heard before. He has influenced young performers, and inspired them to really explore every possible way to play their horns. Carter has been influenced by the past, and he is influencing the future.
What major impact has he had on the jazz scene?
Horns have certain limitations, but Carter has really gone beyond what people thought the horn was capable of doing. His music is exciting for players to listen to, think about, and talk about. Young players in particular like to listen, and then try to figure out how he made a certain sound on their own horns.
What are you most excited to see during his show at Grant Park on Wednesday?
It will just be interesting to see what his approach to composing for an orchestra is, and how the orchestra responds to a jazz man.
This interview has been condensed and edited.
Watch Carter perform his song, "JC on the Set," in our studios:
Eddie Arruza and Christine Hurley contributed to this report.