Think of Chicago in 1893, and the World's Columbian Exposition comes to mind--with millions of visitors flooding the Midway to visit the White City. But 1893 was a seminal year for Chicago for at least a dozen other reasons, including something as seemingly insignificant as the debut of a new brand of chewing gum. Author Joseph Gustaitis chronicles the events large and small from 1893 that eventually turned Chicago into the capital of the Midwest in his latest book, Chicago's Greatest Year, 1893.
"It started with a list," Gustaitis says. In the middle of the 19th century, there were several cities competing to be the capital of the midwest. By 1905, the race is over and Chicago is clearly on top. I starting making a list of important events in Chicago history to see what happened."
Pretty soon, Gustaitis saw a clump of events in 1893, the year the city played host to the World's Columbian Exposition. One of the goals of the Exposition was to present Chicago, which many still remembered as a frontier town, as a modern city. But many of the events in 1893 have little to do with the fair.
That was the year William Wrigley, a soap and baking soda salesman, launched two new flavors of chewing gum: Juicy Fruit and Spearmint.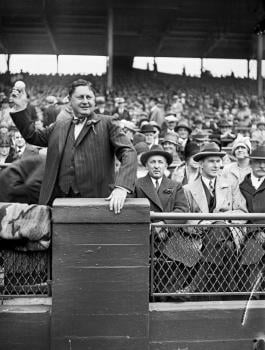 "It does seem trivial to talk about Juicy Fruit gum," Gustaitis says. "However, this is what made William Wrigley extremely wealthy and it's hard to imagine Chicago without the Wrigley Building and Wrigley Field...I make a joke, that it's a building built by the power of human jaws."
Wrigley hadn't invented chewing gum, and initially used it as a throw-in for his baking soda business, but his use of advertising made him a household name. He eventually became the country's largest advertiser.
"Spearmint was not a huge success at first, until he advertised it, and then it became the best-selling gum in the United States," Gustaitis says.
Another milestone from 1893 was the increasing popularity of the modern bicycle, a significant technological leap from the original penny farthing machines, with a front wheel much larger than the back. 1893 was the year Frances Willard, the president of Chicago's Woman's Christian Temperance Union, first rode a bicycle.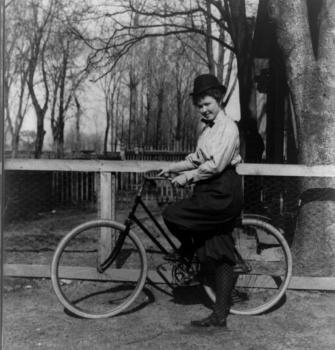 "Women reformers, many of them temperance reformers, saw the bicycle as a great part of female empowerment," Gustaitis says. "It gave them mobility, and the ability to go out without a chaperone."
Susan B. Anthony said the bicycle had done  "more to emancipate women than anything in the world," including allowing women to go to work without being jostled on public transportation. It also influenced women's fashion at a time when large, cumbersome dresses were the norm.
"You couldn't wear a bike in the dresses that were popular in the 1880s, so it inspired a revolution in dress reform--simpler and shorter skirts," Gustaitis says.
Watch Chicago Tonight at 7:00 pm to learn more about what made 1893 "Chicago's greatest year."