Joe Mangrum spends all day on a work of art, and then it's gone. He creates sand paintings - improvisational and temporary works in public spaces, as well as museums, galleries and events. We caught up with him as he made a commissioned sand painting in a downtown office lobby.
Twenty-five pounds of sand, 35 colors, a busy downtown lobby, and one man with an empty expanse of floor.
"I start in the center, and generally make a circle in the center and spoke it out," said Joe Mangrum. "From there, it's just creating shapes."
Joe was commissioned by a Chicago real estate firm to create sand art in two of their downtown buildings.
He studied painting at the School of the Art Institute. After he graduated in 1991, he was a transient young painter, so instead of lugging around a growing collection of canvases, he started to make temporary art.
"I started using flowers and seeds and berries wherever I found them, and started making arrangements and photographing them," said Joe.
Even when he settled in San Francisco, he stuck with ephemeral art. 
"I was starting to tear apart cars and computers, and all different types of installation work where I'd create these temporary environments made from found objects," said Joe.
In 2006, he was living in New York City and working in construction when he fell in love with sand.
"It's just a really refined silica-based sand. And it's just ground to a really fine texture, a velvety texture," said Joe. "And then it's dyed into these 35 different colors. And I just take it here and pour it, like right through the cup of my hand and adjust it with my hands like this."
Joe found a receptive audience for his new medium: outdoors. 
"Out in public spaces in New York -- Union Square Park, Washington Square," he said.
And every day, his tip bucket was full.
"I started making these paintings and instantly was making more than I was in the construction work that I was doing in New York," he said.
Now, Joe Mangrum does about 150 sand paintings a year; some indoors, most outdoors. He has done commissioned work from Beijing to Mexico to Denmark -- to Sesame Street. Watch his full appearance on Sesame Street here.
Each sand painting is unique and improvised.
"I really like to just blank my mind while I'm working and let the instinctual things take over," said Joe. "And there's the process of, I'm making symmetrical shapes so I have to be aware of what's there, and then there's this motion memory of how I move my arm. And I'm not trying to be mathematically symmetrical, what I refer to is like an organic symmetry where it has a feeling of symmetry but it's as though it's a being that's growing, where it's in different stages of development. Whether the flower is getting more sunlight on this side and opening on this side more."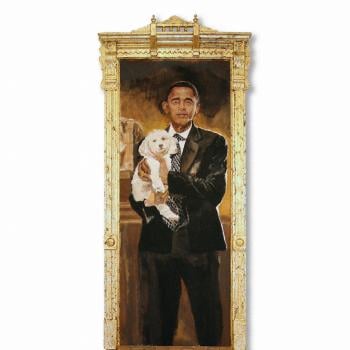 While most of Joe's sand paintings are abstract designs, he does create the occasional sand portrait, like one of President Barack Obama.
Spending many hours a day with grains of sand flowing through his hand seems to have made Joe Mangrum something of a philosopher.
"Each grain really represents a being or living thing, you know? Metaphorically, then you've got billions of living things and they're all working together to create something beautiful," he said. "And in the end, they're all different colors, they're working together, they're in this circular, interactive form. If something gets damaged then the whole is affected."
And Joe sees his work as a "visual rebellion against the urban grid," which, he says, can separate people.
"Chicago is the perfect example of the urban grid. It's the modern city and, you know, there's certainly benefits to the grid, where you know where you're going and you can get around, and you know that Fullerton is 2400 north and Ashland is 1600 west, but it also has sort of negative effects where it segregates the city into different pockets and economic classes," he said. "And on top of that, it's an office building that's stacked with cubes. And everybody's got their own cubicle. You know, it's like separation, separation, separation. It's like the artwork is trying to extend into the cracks of the urban grid and break it apart."
Most of Joe Mangrum's sand paintings have a very short lifespan. By the end of the day, the outdoor ones have blown away or he sweeps them up. But the impermanence, he says, is part of the art.
The sand painting that Joe created is at 300 S. Riverside. This week, he created another one at 540 W. Madison. Both will be surrounded by stanchions and will stick around for three months. That is, unless it is "explored" by a roaming child -- or even vandalized. But Joe's not worried. After all, all of life is temporary.
Watch a web extra time-lapse video of Mangrum's sand creation in Chicago below, which took approximately eight hours to create.