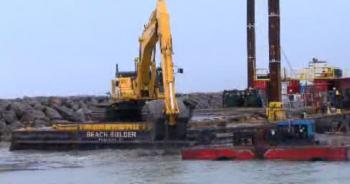 Like all commercial and recreational harbors around the Great Lakes, Waukegan Harbor, just north of Chicago, is fighting low water levels. A wet, cool spring has brought water levels up over a foot from record lows in January, but the water is still down over a foot and a half from the historic average.
Jerry Larsen's marine supply store has been at the north end of Waukegan Harbor since 1933.
"I've been around the lakefront all my life and around Waukegan Harbor all my life, and I've never seen it as low as it was last fall," said Larsen.
Dredging has kept the recreational harbor open for boats, though only half the slips are occupied as the older, fixed docks are so high off the water, boaters are not renting them. But no commercial vessels have made it in or out of Waukegan Harbor since Superstorm Sandy last October.
"We had the closest thing in the Great Lakes to a hurricane that we've seen in decades this past fall. Superstorm Sandy actually hit the Great Lakes hard," said Joel Brammeier of Alliance for the Great Lakes. "Here in southern Lake Michigan, it whipped up massive waves and winds that actually closed down Waukegan's commercial harbor, which had just been dredged to keep that shipping lane open. And Superstorm Sandy came in and dumped tons of sediment right on the floor of Lake Michigan to close that harbor down again."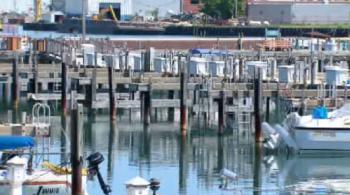 Susie Schreiber is the head of the Waukegan Harbor Citizens Advisory Group.
"This is where it has plugged up. There is a tow right behind you and a tow right where that boat is, and we try to keep a channel open between those two tows," she said.
But the water has not been deep enough to allow commercial shipping. The National Gypsum plant hasn't been able to replenish its supply of gypsum rock since last October. The plant, which makes drywall from the rock, has had to lay off 20 employees and is producing just a little more than half the inventory it once did.
Before the harbor shut down, National Gypsum brought the gypsum rock from northern Michigan down the lake by barge. The plant now has about four to five months worth of rock on hand. Plant manager Trey Jackson is pinning his hopes on the Army Corps of Engineers.
"A bill was passed for funding for relief on Superstorm Sandy, and with that there is dredging money available that we should see sometime, no later than the beginning of August, said Jackson. "It's $990,000 for dredging that will be able to keep this harbor, will open it up. Right now it's not open."
But the emergency Army Corps dredging in August will be too late for the Lafarge cement company. After 51 years of doing business as a distribution terminal for powdered cement, Lafarge shut its doors in June. Former General Manager Larry Brewer had been with the company for 43 years. He says the October harbor closing was the last straw for the company that had been battling low water levels for the last several years.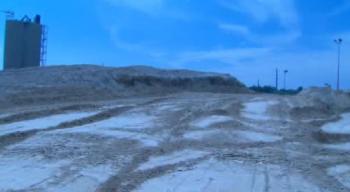 "Because of the low lake levels the cargos that were coming in were being reduced every time," said Brewer. "Originally, without any problems with the lake levels, we were bringing 9,000 to 10,000 tons in, and then recently it's down to like 6,000."
After three major storms in September of 2011, a big lake carrier bringing product into Waukegan Harbor ran aground. That's when harbor officials knew they had a problem.
Brewer knew he had a problem too because the ship was carrying powdered cement in for Lafarge.
"I made a phone call because we saw them out there, and I made a phone call and they said that they're stuck on a barge of sand, and they didn't know what they could do," said Brewer. "They were going to talk to their dispatcher and find out what they should do, if they should try to get through or not. And it was determined that they were going to turn around."
Ironically, the shutdown of the commercial harbor comes just as the decades-long, nearly $50 million project to clean PCBs from Waukegan Harbor is coming to an end. The final phase of round-the-clock hydraulic dredging to rid the harbor of the PCBs will come in August.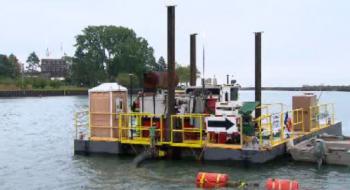 Waukegan Harbor was once the largest superfund site in the country after PCBs were dumped into the water beginning in the early 1950s by the Outboard Marine company.  The contaminated sand is dredged off the bottom and sent by pipeline to an on-site treatment facility.  It is cleaned and stored in large, sausage-like containers. The cleaned water is released by pipeline back into the harbor. But it may be a pristine clean harbor that commercial ships can't get into.
"PCBs we can pretty well assure you will be gone from Waukegan Harbor by mid-August 2013, this year," said Schreiber.
But, she says, then you may not be able to get into the harbor.
"Then we have to worry about Mother Nature's clean sandbox," said Schreiber.
Commercial shipping should resume out of Waukegan Harbor after the August dredging but there is concern over what happens next year when the Hurricane Sandy dredging money is gone. Waukegan Harbor is hardly alone. There is a $200 million backlog in harbor dredging projects on the Great Lakes.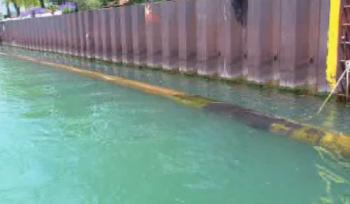 "Maybe someone can have some out of the box idea. I know that the city of Waukegan has been looking at things to try to do for moving sand and maybe keep that sand from getting in the way," said Jackson.
Scientists predict slightly higher lake levels for the coming year but also say more violent storms can be expected. That means an uncertain future for the 139 recreational and commercial harbors of the Great Lakes.
Waukegan's recreational harbor is open after the Port Authority spent $365,000 on dredging. No tax dollars were used in the dredging; the Port Authority's revenues come from slip fees. Another $175,000 worth of dredging is needed, but could not be completed because of tight budget constraints.