The city invites you to Movies in the Park; the Chicago Cultural Center celebrates artists Alfonso and Margaret Iannelli; and advance to the frontlines in a Civil War re-enactment; Chicago Tonight knows what's going on this weekend.
Chicago Park District Presents- Movies in the Park
Snuggle with a blanket and your picnic basket under the stars and watch a movie in the park. Chicago's 13th annual Movies in the Park season opened June 13 and runs through September 14. Several films

 are on tap this weekend at various parks around the city. Make it a date night and watch Spaceballs at Independence Park on Friday. Or engage in family fun with Hotel Transylvania on Saturday. Admission is free, and all movies begin at dusk, weather-permitting. Movies in the Park features 195 screenings of current and classic movies in 150 citywide parks. For a list of  movies screening this weekend, click here.
Modernism's Messengers: The Art of Alfonso and Margaret Iannelli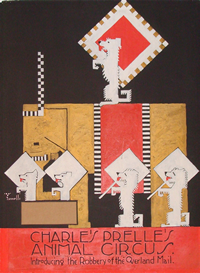 This week, on Chicago Tonight we featured the works of an artist power couple Alfonso and Margaret Iannelli. Adding to the tenet of the Chicago Cultural Plan, Modernism's Messengers: The Art of Alfonso and Margaret Iannelli – 1910 to 1965 will be on display in the Chicago Rooms of the Chicago Cultural Center. The exhibit brings a collaboration of the Iannelli's art and love of modernism. They were a husband and wife design team who worked with Frank Lloyd Wright and then struck out on their own. Despite very different backgrounds, they made their mark on the Chicago area, from the Adler Planetarium to the Pickwick Theatre in Park Ridge. Explore the exhibit this weekend; Friday, Saturday and Sunday the hours are 10:00 am to 6:00 pm. The exhibit is also open daily, Monday through Thursday from 10:00 am to 7:00 pm. Chicago cultural historian Tim Samuelson curates this free exhibit that runs through August 17. For more information about this exhibit, click here.
Chicago Cultural Center - Chicago Rooms
78 E. Washington St.
Chicago, IL 60602
DuSable African American Museum
Dress up like a Civil War soldier and take a trip back in history on Sunday, June 23 at the DuSable Museum of African American History. The museum, along with The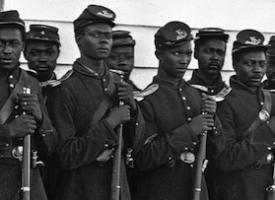 Amistad Commission, presents, "A Sight Unlike Any Other: The Civil War and the Colored Soldier," a Civil War re-enactment. It's a day-long family event that highlights two battle re-enactments of African American soldiers fighting for freedom. The event commemorates the 150th anniversary of the Emancipation Proclamation. The event includes performances based upon speeches from Abraham Lincoln and Frederick Douglass, museum tours and horse rides for children. After the re-enactment a screening of the film Glory will be shown. Admission is free. The event lasts from 12:00 pm to 5:00 pm. For more information, click here.
DuSable African American Museum
740 East 56th Place
Chicago, IL 60637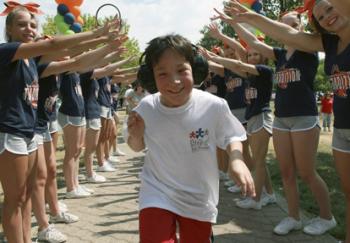 Kick off your Sunday morning with a fun walk or run for a cause. The Step Up for Autism Walk returns in its fourth year with a 2.5-mile walk and fun run and a 1-mile kid-friendly route in suburban Naperville. Come out and help raise awareness about autism, a complex developmental disability that affects an estimated 1.5 million Americans. Funds raised from the event benefit children and adults with autism served by Little Friends and the Little Friends Center for Autism. The event will also feature a new fun-filled "Kids Area," complete with interactive displays, moon jumps and entertainment. Donate to Little Friends to register for this event. The fun begins at 8:30 am and lasts until 12:00 pm. For more information about this event, click here.
Downtown Naperville - Riverwalk
2013 Chicago Gospel Music Festival
For another weekend event that is easy on the wallet, head down to the 28th Chicago Gospel Festival. This year's theme "The Year of the Choir" 
encompasses what goers can expect -- intense joyful music. Performing over the four-day event are some of the genre's top artists including Smokie Norful, Vickie Winans, John P. Kee and New Life, Lecrae and Tamela Mann, and more. Historic church tours, art and marketplace attractions, and a health and wellness oasis add to the festivities. Kids can enjoy a fun time at the Kids Activity Zone at Ellis Park. Festival admission is free, and if you get hungry, food and beverages will be available; just don't forget your wallet! The event takes place Friday, June 21 at the Chicago Cultural Center from 12:00 pm to 3:00 pm with a film screening at 5:30 pm; Saturday, June 22 and Sunday, June 23 at Ellis Park from 11:00 am to 8:00 pm. For more information about this event and to view a map of Ellis Park, click here.