The Bodies of Work Festival brings together local and international artists to challenge prejudices and explore the connection between art and disability. We explore the festival and its artists on Chicago Tonight at 7:00 pm. View a slideshow previewing some of the artwork that will be on display at the festival.
We spoke with the director of the festival, UIC professor Carrie Sandahl.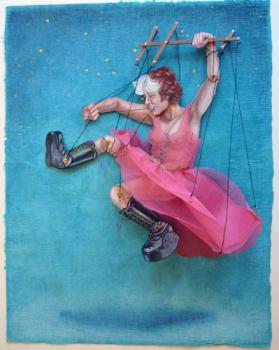 Tell me about your background and area of expertise.
I am originally trained as a theater artist and scholar. I got my bachelor's, master's and Ph.D. all in theatre studies. After I got my Ph.D., I went to Florida State University and was a theater professor. I have a disability myself, and while I was in graduate school, I became really interested in how people with disabilities were represented on stage and noticed there was really nothing written about disability in theater.
So, I started to think about the ways that disability was similar and different from other fields of study. I thought a lot about how disabled people are used as narrative devices, and began applying what I knew from my critical thinking and feminism studies to explore disability in my own work. I stopped performing on stage and theater around this time because I wanted to explore disability in ways that weren't currently represented on stage and to start to identify the stereotypical ways in which disability is used. I found them very limiting and wasn't happy with them; none really meshed with the actual lives that people with disabilities lead.
As a disabled artist yourself, what drew you to want to study the creativity and artistry of people with disabilities?
First of all, it really stemmed from my undergraduate days, when I was mainly interested in being an actor. At that time, I didn't use any assistance to get around. But when I was young, I would get cast in plays in a particular kind of role. Often, I was cast across gender; it's almost as if a disability can make your gender less specific. Because of my gait, I was often cast as an old person. I felt that my disability was being used for purposes that I didn't necessarily agree with. This is an art form that I love, but I wasn't really comfortable with the way my body was being used to depict different characters.
As a researcher on disability and the arts, what do you think are some of the misconceptions on the subject?
Like any other group, people with disabilities are creative in many different ways. You might have people who are creative for their own personal enjoyment, and then there are those who participate in arts therapy.  Then, you have artists in the professional arena. One of the biggest problems is that because people are not used to seeing professional art by people with disabilities, they might think that they're going to see something that is a part of therapy or something that is not on the same level as other work. This year's festival focuses on professional artists, but we do have other festivals for other constituencies.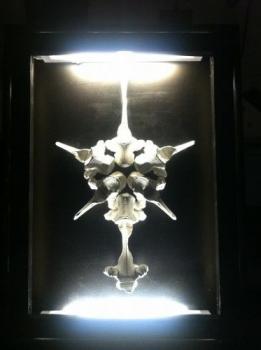 Is being labeled "disabled" sometimes limiting to the artist, in terms of acceptance at museums or galleries?
The disabilities civil rights movement has a motto that says: "Nothing about us, without us." That is true for the arts as well. I have a physical disability so my experience is very different from someone who is blind or deaf. A lot of the early work was about confronting stereotypes, but the work now - as people will see at the festival - is about trying to enter the mainstream and trying to show how our disabilities give us a particular perspective that's valuable. We're taking charge of how we're represented and we're doing that from our uniqueness. It's not about saying, "I create art despite my disability." It's about saying, "this disability provides me some aesthetic possibilities that have gone unexplored."
For instance, if you are a dancer who uses a wheelchair, you are obviously going to move differently than someone who doesn't use a wheelchair. It's still rare today for kids with disabilities to get any dance training, but there has been a movement exploring the movement possibilities in the wheelchair. The cliché is that people in wheelchairs are "wheelchair-bound." Instead, people with disabilities see them as freedom devices. Getting around in a wheelchair, if the space is accessible, is really fun. The chair can really allow for a lot of beautiful movement. The work that we're showing is trying to explore human variation and show that a wheelchair is just an extension of the body.
When and how did you come up with the idea for this festival?
The first festival was in 2006 and it was conceptualized in 2002. It was formed by nonprofit disability groups, some people in the medical field, as well as UIC faculty and arts organizations. It really was a very interesting consortium. But after that festival, the group continued to meet and support each other, and then when I came in 2009, the baton was passed to me to take leadership of the festival. So, we have an advisory council made up of people from various arts organizations and artists that put the festival together as a group.
What I think is really cool about Bodies of Work is that it's not as if the festival raised money to put on events at these venues. The venues themselves reached out to these artists.
What kinds of artwork are on display as part of the festival?
Most of the events are free. One of the reasons for that is that many of the artists with disabilities are on a limited income, so we wanted them to be as accessible as possible. There will be lots of film and theater. We have an original play at the Raven Theatre, book and poetry readings, one-person shows, and even a sound installation. The program is pretty heavy in the performing arts. I'm hoping in the future that we'll explore the visual and fine arts further. I'd really like to do another large scale event that focuses on visual arts.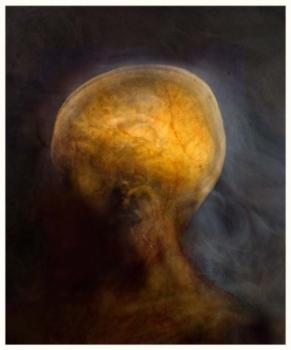 What are some of the goals of the festival?
To get people to think about disability in new ways, and to raise awareness about some of the social and political issues. I don't know if others would agree with me, but one of my goals is to get people to look at disabled people and give us some regard. Our society is very conflicted about people with disabilities. One of the first things you learn as a kid about people with disabilities is not to stare and not to ask questions.
I've noticed a strong effort in disability arts to draw attention to ourselves, but by wresting control of what that staring relationship is going to be about. Usually when you're being stared at, it's an uncomfortable position. But when you're an artist, you're putting yourself out there to tell people what you mean and what we mean. Society also tells us that we shouldn't draw attention to our disabilities. You're supposed to do your physical therapy and have surgeries to minimize your difference, but at a certain point, you are who you are. We're trying to share with the broader community what that is.
I hope that if people find our festival intriguing, it would be great if audience members could let the venues know that they'd like to see more of this work, because one of the perceptions is that people won't come to these kinds of events. The more people can provide feedback, the more opportunities there will be for people with disabilities.
Interview has been edited and condensed.