Catch Big Fish on stage, superheroes and heroines at McCormick Place, and timeless antiques at the Merchandise Mart; Chicago Tonight knows what's going on this weekend.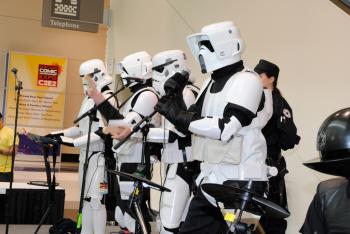 Chicago Comic & Entertainment Expo
Don't leave home without your cape: Superheroes, Klingons, Power Rangers and more descend on McCormick Place this weekend for the fourth-annual Chicago Comic & Entertainment Expo – better known as C2E2. Apart from the incredible people-watching, C2E2 offers guests a chance to meet and interact with the creative minds behind some of the biggest movie, television and comic book hits. Among the nerd royalty attending this year's festival is Paul Cornell, best-known for his work on Wolverine comics for Marvel and Kevin Smith, the brains behind Clerks, Mallrats and most recently, the star of AMC's Comic Book Men. The three-day festival is jam-packed with screenings, exhibitions and costume contests, including opportunities for eager fans to catch sneak peeks of their favorite films and TV shows months before the rest of us. Three-day passes are on sale for $65 with day passes for Friday, Saturday and Sunday priced at $35, $40 and $35 respectively. Kids under 5 are admitted free all weekend, and on Sunday, children 12 and under are admitted free of charge. For a full rundown of weekend events and to purchase advance tickets, click here.
McCormick Place
2301 S. Lake Shore Drive
Chicago, Illinois 60616
A literary and film favorite finally makes its world premiere on stage at the Oriental Theatre, but only for a few more weeks. Based on the novel by Daniel Wallace and the acclaimed feature film directed by Tim Burton, Big Fish chronicles a son's epic journey to discover who his father really was. The son's exploration of his father's tales of adventure has been transformed into a musical, directed and choreographed by five-time Tony Award winner Susan Stroman, previously known for her work on The Producers and The Scottsboro Boys. Big Fish is playing at the Oriental Theatre through May 5, so just two weeks remain to catch the show before it likely heads east for Broadway. Tickets are priced between $33 and $100. For more information on the play and to purchase tickets, click here. To view a web-exclusive interview with Stroman, click here.
The Oriental Theatre
24 W. Randolph St.
Chicago, IL 60601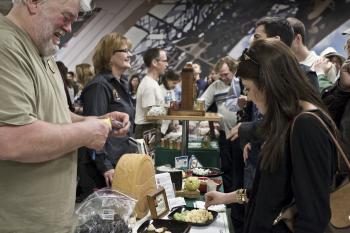 Pastoral's 3rd Annual Artisan Producer Festival
Who doesn't enjoy washing down artisan cheese and charcuterie with locally sourced, small-batch wine, beer and liquors? Intrigued? What if we told you that all of this craft food and drink is FREE? Let me make that clear: zero, zip, zilch, no money involved. Just show up. All you need to bring to Saturday's Artisan Producer Festival is a healthy appetite. You may also want to clear your schedule for the rest of the day if you plan to sample some of the beverages. From Pinot produced in Oregon to vodka and whiskey distilled in Illinois, to mustard made in France and artisan jam from Wisconsin, this year's festival offers attendees the chance to sample offerings from 80 culinary producers, and to meet the culinary minds behind them. Hosted by Pastoral, the festival takes place Saturday from 11:00 am to 3:00 pm at 
Pastoral Chicago French Market
131 N. Clinton St.
Chicago, IL 60661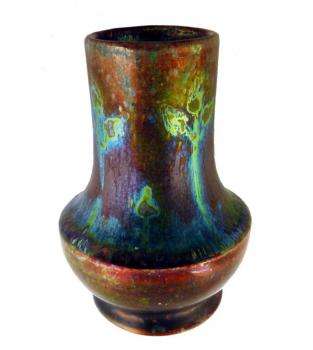 Merchandise Mart International Antiques Fair
So maybe fine wine and cheese isn't your thing, but you definitely appreciate some of the other finer things in life…say, priceless artifacts and antiques? More than 100 of the world's top dealers will be showcasing art, antiques and jewelry from antiquities through the 20th Century at the 16th Annual Merchandise Mart International Antiques Fair, at the Merchandise Mart through Monday. The exposition features Asian art and antiquities, tribal art, textiles, maps, posters, jewelry and much more. Tickets to the fair are $15. For more information on purchasing tickets, a full list of dealers in attendance and exhibition hours, click here.
Merchandise Mart
222 W. Merchandise Mart Plaza
Chicago, IL 60654
Let's face it: art museums can be overwhelming. What can seem like miles and miles of hallways and galleries causes some of us to feel rushed to see it all before some imaginary deadline passes. But the reality is there is no rush, especially this weekend. Saturday, April 27 is "Slow Art Day," an all-volunteer event that encourages people to get out to museums and do just that – slow down, take it all in and discover the joy that looking at art can bring. The global event advises people to "look at five works of art for 10 minutes each and then meet together over lunch to talk about their experience. That's it." If you want to get a group together to participate in "Slow Art Day" this weekend, consider heading to the Museum of Contemporary Art to check out the work of Argentinean artist Amalia Pica, whose drawings, sculptures, photographic prints, slide projections, and installations go on display Saturday. Pica is known for using simple materials - like light bulbs, beer bottles and cardboard - to create complex and intriguing artwork. For more information on "Slow Art Day" and events planned in Chicago, click here. For more information on the Amalia Pica exhibit at the MCA and more exhibits currently on display, click here.