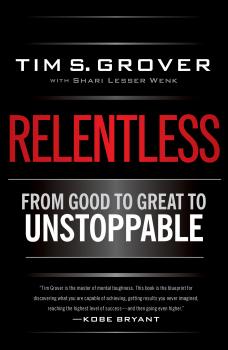 Trainer and owner of the West Side Attack Athletics, Tim Grover, has carved out a niche for himself--mentoring the best of the best in the NBA.
From Michael Jordan to Dwayne Wade, Grover has worked with the league's top players. He says his number is on many player's speed dials: "I'm not the first person they call, but the last person they call." That's because in addition to working with blown-out knees and other physical injuries, Grover helps players through the self-doubt and choking that can happen in the midst of a championship series. "[One player] flew two thousand miles to hear these two words: Don't think," Grover writes in his new book, Relentless: From Good to Great to Unstoppable.
Grover's claim to fame was being Michael Jordan's primary trainer for 15 years. "It wasn't really a focus, but just my first professional client was a professional player, Michael Jordan. I got labeled the basketball guy, and that's not a bad label to have," he says.
Grover's book focuses on the mentality that separates his superstar clients from the mere stars. He calls them "Cleaners," people who aren't competing against others on the court, but mainly against themselves. "They're always thinking 'What's next?' It's not a healthy way to always live, but people at the top level can't really shut it off. They're thinking about the same thing over and over again," Grover says.
Read more about how Grover got his start in an excerpt from Relentless below: 
Relentless is about achieving the impossible. I know for a fact that anyone can do it. When I was still in high school, just a 5'11" basketball player in Chicago, I was watching a North Carolina game on television and saw Michael Jordan for the first time. He was a skinny freshman with moves I had never seen, completely instinctive and natural; he just knew what to do out there without even thinking about it. I didn't know anything about him, but I knew this kid was going to be a superstar.

Several years later, I had a master's degree in exercise science and was working as a trainer at a Chicago health club, and Michael was still skinny, but now he was a superstar with the Chicago Bulls. I had contacted the Bulls numerous times in the 1980s when I became a trainer, hoping for a shot at working with any of the players. I wrote letters to every player except Michael because I figured if he wanted a trainer, he would already have one, and it wouldn't be a guy like me who was just getting started. No one was interested. At that time, basketball players still weren't into weight training; the old-school belief was that a bulky upper body would mess up your shot.

Then in 1989, I saw a small newspaper story about how Michael was sick of being outmuscled by the world champion Detroit Pistons and the rest of the league. Once again I contacted the Bulls and talked my way into a meeting with the team doctor, John Hefferon, and the head athletic trainer, Mark Pfeil. What were the chances they would advise their superstar player to work with this unknown trainer who had never trained a professional athlete? None, everyone said. Forget it. Impossible.

Of course, everything is impossible until someone does it. Michael had worked with a trainer once, injured his back during the workout, and was hesitant about trying again. Yet he also instinctively knew it wasn't enough to have the greatest basketball skills in the history of the game. If he wanted to be more than a legend, if he was truly going to become an icon, he would also need to take his body to the ultimate level, and he was willing to do whatever was necessary to make that happen. So he told John and Mark to find someone who understood exactly what he needed.

A few days after my first meeting with the Bulls, they called me to meet again at their suburban practice facility. I figured it was another interview with the training staff. I had no idea I was being taken to a meeting with Michael Jordan at his home.

Michael and I talked for an hour, and I laid out the whole plan, showing him how we would slowly make him stronger and minimize the risk of injury, explaining how every physical change would affect his shot and how we would make adjustments along the way, getting his whole body working in balance for maximum peak performance, and probably extending his career.

He listened closely to everything I had to say before he responded.

Not possible, he finally said. It's too good. It just doesn't sound right.

It's right, I told him: "I'll give you a thirty-day schedule detailing exactly what we're going to do, how it's going to affect your body, your game, your overall strength. I'll tell you how you're going to feel so you can adjust to the changes we're going to make. We'll plan what you'll eat, when you'll eat it, when you'll sleep. We'll look at every detail, leaving nothing to chance. You'll see how everything works together."

He gave me thirty days.

I stayed for fifteen years.

When he finally retired, he said, "If I ever see you in my neighborhood again, I'm going to shoot you."

We learned from each other. We never saw obstacles or problems, we only saw situations in need of solutions. And since there had never been a player like Michael Jordan, we encountered a lot of situations without known solutions. We learned, we made mistakes, we learned from our mistakes. We kept learning.

Michael wasn't the best because he could fly through the air and make impossible shots; he was the best because he was relentless about winning, relentless in his belief that there's no such thing as "good enough." No matter how many times he won, no matter how great he became, he always wanted more, and he was always willing to do whatever it took—and then some—to get it.

For more than two decades, those values have been the cornerstone of all my work with hundreds of athletes, and now they are the cornerstone of this book. Relentless is about never being satisfied, always driving to be the best, and then getting even better. It's about finding the gear that gets you to the next level . . . even when the next level doesn't yet exist. It's about facing your fears, getting rid of the poisons that guarantee you will fail. Being feared and respected for your mental strength and toughness, not just your physical abilities.

Whatever's in your glass, empty it right now, and let me refill it from scratch. Forget what you thought, what you believed, whatever opinions you have . . . we start over right now. Empty glass. Those last few drops are the mental barriers that will prevent you from being better. We're going somewhere completely new.