Reptile Fest, the Chicago Critics Film Festival, and wine and beer aplenty. Chicago Tonight knows what's going on this weekend.
Reptile Fest
If you or your kids are fond of slithering, scaled and sometimes slimy critters, you'll want to plan to attend the 20th annual Reptile Fest, which returns to the University of Illinois-Chicago on Saturday and Sunday. With over 40,000 square feet of exhibits, the exposition is the nation's largest reptile and amphibian showcase, featuring a huge assortment of snakes, lizards, and crocodiles, including several rare species. Among other activities, kids and adults will have the chance to climb into a tortoise pen, interact and take pictures with exotic reptiles, and learn about reptiles and amphibians that may make their home in your backyard. The festival runs from 10:00 am to 5:00 pm on both Saturday and Sunday, and tickets are available at the door. Prices are as follows: Ages 12 and up - $10; Ages 3 to 11 - $7; Under 2 - Free. For more information on the exposition,
click here
. 
Check out Chicago Tonight's exclusive footage of some of the festival's reptiles and view a slideshow here
.
University of Illinois at Chicago
Physical Education Building
901 W. Roosevelt Rd.
Chicago, IL 60608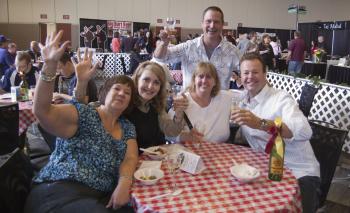 Tinley Park Brew and Vine Festival
Once spring comes to Chicago – and we remain optimistic this will happen someday – beer festivals are a dime a dozen. But not all of them feature 23 of the top craft brewers in the country, along with wine from 11 of the region's best vintners and local food vendors. Nor will they have live glass-blowing demonstrations by Nick Paul of Windy City Glass and seven hours of live music from local cover outfit "The Hat Guys." And did I mention that Frank Thomas will be there? Yes, that Frank Thomas – the former Chicago White Sox slugger and future Major League Baseball Hall of Famer will be in attendance to sign autographs and promote his Big Hurt Beer. The festivities take place on Saturday, April 13 from 3:00 to 10:00 pm at the Tinley Park Convention Center, located about 30 miles southwest of downtown Chicago. Tickets are $30 at the door and include 12 tasting tickets for beer, wine and/or soft drinks, and a commemorative Tinley Park Brew and Vine Festival beer or wine glass. If you plan on using all 12 of those tickets and can talk a friend into driving, special Designated Driver tickets are also on sale for $10 at the door, and include four tickets for food or soft drinks. For more information on the festivities,
click here
.
Tinley Park Convention Center
18451 Convention Center Drive
Tinley Park, IL 60477
Chicago Critics Film Festival
Film critics wield a great deal of power. The recently departed Roger Ebert could make or break a film with little more than his two thumbs. But not all flicks that critics adore turn into blockbusters on the big screen. In fact, without the benefit of a studio-bankrolled promotion campaign, many of the best movies out fly under the radar, unseen by the masses, even if they are lauded by critics. This weekend, the first-annual Chicago Critics Film Festival aims to showcase these movies – the best films you've never heard of. The festival is the first of its kind hosted by film critics, and boasts a lineup of more than 20 features and short films to be screened over three days this weekend. The festival kicks off Friday night with a 7:00 pm screening of
Stories We Tell
from Oscar-nominated writer and director Sarah Polley, which unravels the secrets kept by a family of storytellers. The festival, which features a wide variety of movie genres, takes place at the Muvico Theaters Rosemont 18. "Gold" passes priced at $100 include admission to all screenings, and to VIP parties Saturday and Sunday nights. Single-day and individual screening tickets are also available. For a full list of films, screening times, and ticketing information,
click here
.
Muvico Theaters Rosemont 18
9701 Bryn Mawr Ave.
Rosemont, IL 60018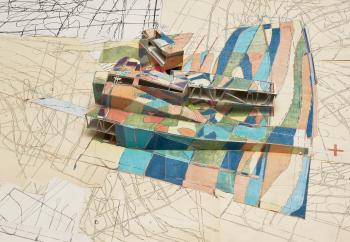 Sharing Space: Creative Intersections in Architecture and Design
You may dread going there, but the building you work in is a piece of art. It may be difficult to see, but someone put some thought into its design, from the dimensions to the color scheme to the building materials. A new exhibit on display at the Art Institute of Chicago titled
Sharing Space: Creative Intersections in Architecture and Design
, celebrates the artistry and creativity of leaders from the fields of architecture, urban planning, graphic design, and industrial and industrial design. Featuring permanent works from the Department of Architecture and Design, the exhibit showcases pieces from the 1940s through 2012. Among the highlights on display is the mind-bending
Camouflage House
from David Garofalo and David Leary, pictured above. The exhibit runs through Sunday, August 4 and is free with a regular admission to the Art Institute. For more information on the exhibit, ticket prices, purchasing information and hours,
click here
.
The Art Institute of Chicago
111 S. Michigan Ave.
Chicago, IL 60604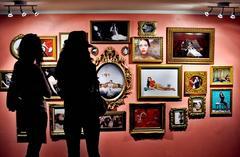 Chicago Arts District's 2nd Friday
In need of some excitement, variety and most importantly, stunning artwork to kickstart your weekend? Head straight from your office to the Chicago Arts District's 2nd Friday exposition, located in the area surrounding South Halsted and 18th Street. The event, which occurs on the second Friday of each month, offers Chicagoans a chance to mingle with the artists who call this creative hub home, and view their latest artwork. And best of all, all of the exhibits and performances are free, unless you decide a particular piece of art is coming home with you. Visitors are advised to stop by the Event Information Booth, located at 1821 S. Halsted to pick up maps and information before heading off into the neighborhood to explore the area's vibrant art scene. From a Flamenco Showcase at the Clinard Dance Theatre to photography, sculpting and more, 2nd Friday has something for all artistic tastes. The event lasts from 6:00 pm to 10:00 pm. For more exhibition times and information on the artists involved,
click here
. 
Chicago Arts District
S. Halsted and 18th Streets
Chicago, IL 60608