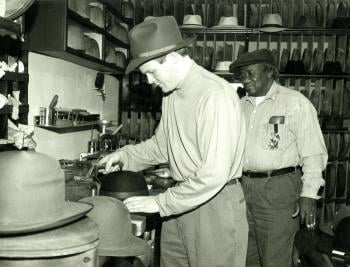 When a man wears a hat these days, it's likely to be a baseball cap, a ski cap or maybe one of those trendy little fedoras with the skinny brims.  But it wasn't always that way, of course. We paid a visit to the last custom hatmaker for men in Chicago.
If you take a look at a 1916 photo of a crowd on Michigan Avenue in Chicago, you will notice that nearly every man is wearing a hat. There was a time when most men wore hats most of the time. And a hat did more than keep your head warm. The hat that a man wore - and the way he wore it - said a lot.
As a result of all this hat-wearing, there were once dozens of hatmakers in Chicago. 
Today, as far as we know, there is just one maker of fedoras and other classic men's hats left -- Optimo Hats in the Beverly neighborhood.
The owner and chief hatmaker is Graham Thompson, a Chicago kid who loved old movies -- and hats.
"I love the old film noirs. I used to watch those with my dad, and one of the first objects that I really wanted was a good hat," he said.
In high school, Graham's love of hats led him to a south side hatmaker named Johnny Tyus. 
"When I made my way to his shop, it was just the coolest thing ever, watching him steam, block, make hats, and the characters that would come into his store, from blues legends to businessmen," he said. "He had out of state customers and international customers."
In 1995, Graham returned from college with a degree in economics and Japanese. When he stopped by Johnny's hat shop, Johnny broke the news that he was closing up the store and retiring.
"By the time I got home, I thought, I wonder what he's doing with his business?" he said. "I picked up the phone and talked to him and we worked out a deal that week for me to take over his business; that I would pay him over a certain amount of years and he would train me."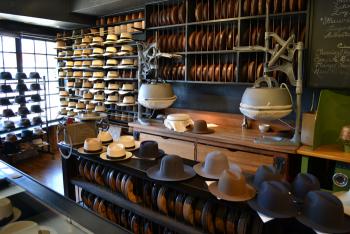 Graham bought all of Johnny's equipment and opened Optimo Hats in Beverly. Johnny stayed on for several years as employee and mentor. And for Graham Thompson, that was heaven.
"He loved hats like I did, so I'd ask him questions like, why is this felt so good? Why does that brim snap so well?" he said.
Optimo makes both straw and felt hats. Their felt is made from wild animal furs, primarily beaver.
"Most felt hats you see are made out of wool," said Graham. "Wool is one of the lowest quality things that you can make hats out of."
The felt arrives looking like what they call "hillbilly" hats.
"Then, at our workshop, we form our hats, and they're formed over blocks. We have many different blocks, different sizes, crown heights, and shapes," said Graham.
Then they go to the trimming department where the sewing is done. The sweatbands are sewn in, and the ribbons and linings are added.
The brim is cut to the right width and the hat goes into another form to give the brim just the right curve.
Optimo also takes in hats for restoration and cleaning. 
"My son bought me this hat for Christmas and I'm getting it blocked to take out this little furl," said blues musician Roger Wargo. "And this I bought when I was in high school."
Since 2012, Graham has been selling his classic old hats in the classic old Monadnock building downtown.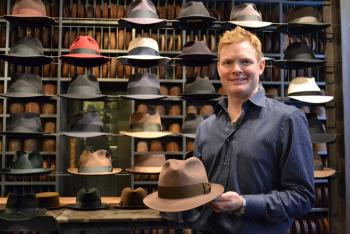 One regular customer is radio personality, writer, and Motel 6 spokesman, Tom Boddett. He says he never wore nice hats until he stopped in the store on a visit to Chicago.
"I honestly wouldn't have considered it until I came in here and started throwing hats on my head, and it's like they looked good for the first time ever," said Boddett. "And I always felt like I looked like a clown in a hat. You put a hat like this on, and it's like…actually, that's a pretty handsome looking guy over there, that's not a clown."
Boddett admits that hats have turned into a kind of obsession for him. Today, he bought his fourth hat. And at $650 to $1,000 a pop, it's an expensive habit.
"I don't spend a lot of money on clothes generally because I'm not in a line of work that I have to dress a lot," said Boddett. "I tend to buy really nice stuff, but I don't have to buy a lot of it, so I'm applying the same thing to my hats. Although these hats are becoming more of a habit than I thought they were going to be. But the fact that these are the kind of hats that I can pass down to my kids and even their kids if everybody takes care of them; for me, makes it justifiable."
And Tom Boddett isn't the only celebrity wearing Optimo hats. The list of musicians and actors that have walked through these doors is pretty long and illustrious.
"Good hats are unusual today, and that's kind of nice in a way," said Graham. "I mean, our customers do not want to be like everybody else, dress like everybody else, and just fit in. That's not what hats are about, especially today."
"It's not the kind of thing that's going to go out of style, or if it does, it's going to come back in," said Boddett. "So, stick it in a hat box, it'll be in somebody's attic and somebody will dust it off, maybe 75, 80 years from now and say, 'That's a beautiful hat. I'm going to wear it.'"
Graham Thompson's mentor, Johnny Tyus, died in 2002.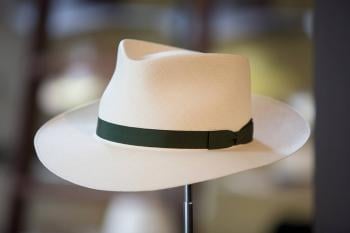 Optimo Hats has two locations. There's the workshop and store in Beverly, and a store in the Monadnock building downtown.
And by the way, if the felt hats sound expensive, you should know that Optimo's straw hats -- with woven straw imported from Equador -- sell for $400 to $20,000.
Optimo Hat Locations:
Southside Store and Workshop
10215 S. Western Ave.
Chicago, IL 60643
(773) 238-2999
Downtown Store
320 S. Dearborn St.
Chicago, IL 60604
(312) 922-2999