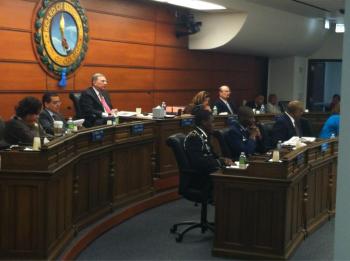 "What I cannot accept and what I will not understand are charges that the proposals that I am offering are racist," said a defiant Barbara Byrd-Bennett, testifying in front of the Chicago Public School Board, and in front of parents and community activists.
One observer immediately shouted, "They are!"
Byrd-Bennett then repeated her declaration. It set the tone for an emotional and heated CPS board meeting that saw speaker after speaker criticize the plan to close 54 underutilized or underperforming Chicago Public Schools.
Concurrently, the City Council's Education Committee held its own hearing on school closings, featuring testimony from CPS and Chicago Teachers Union members. Some aldermen criticized that the meeting was meant as a diversionary tactic to keep activists and opposition aldermen away from the school board hearing.
The education committee's chairman, Ald. LaTasha Thomas (17th), admitted that City Council had no authority over CPS decisions but said that they could be another voice in the process.
One lighter moment during the City Council's meeting involved a back and forth between the CTU's Stacy Davis Gates and Ald. Anthony Beale (9th.) Beale asked Gates whether the union would be willing to make concessions if it meant keeping schools open. There were several moments of silence. Beale then started humming the theme from the TV game show Jeopardy! as the silence wore on.
Gates eventually responded that she would prefer the city to declare that any TIF surplus money be used to fund schools.
Watch Chicago Tonight at 7:00 pm for more on today's board meeting.