Chicago fashion designer Maria Pinto teamed up with the Field Museum for a fashion exhibit about cross-cultural clothing. Chicago Tonight spoke with Pinto about the collection, her upcoming projects, and what it has been like dressing the First Lady. View a slideshow of Pinto's paintings for iPhone covers and photos from the Field Museum exhibit, and read the Q&A with Pinto below.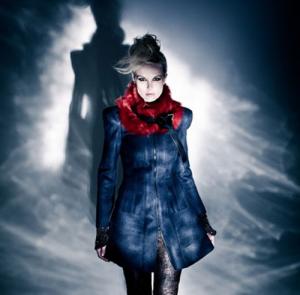 What was the goal of this exhibit, Fashion and the Field Museum: Mario Pinto?
The main goal starts with Alaka Wali—she's amazing! She has such a high regard for the collection and trying to show it in new ways. The audience is evolving, and she recognizes you need to experiment with ways to show objects in a different light. The idea was to allow me to create a slightly different experience than one would have had because of the way it's displayed.
What was the most challenging part working on this project at the Field Museum?
The most important part was that it's so interesting. I'll never look at an exhibit the same way. You really appreciate the detail that goes into every part, when you consider so much is involved in terms of conservation. The team there is amazing. There were about 50-some people who worked on it. The challenge is to select pieces that could be shown. Some are too fragile or have some kind of history or sacred aspect, and the Field is mindful of protecting these aspects of some pieces that wouldn't be displayed. It was a seamless, exciting project that we've been working on for a year.
What is your favorite piece in the exhibit?
The first thing that jumped out at me was the seal intestine raincoat. It exemplifies many things about the exhibit in just one piece. Every piece is so beautiful, and this was aesthetically amazing. An artist has access to everything in the world, but here, people had access to seal intestines, and since it's water repellent, they made a raincoat out of it. It's brilliant. And it humbles me. I think I'm making great things, and here's a culture that makes something with what's available to them.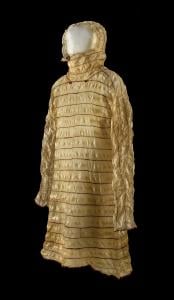 Can you tell me more about your current project designing iPhone covers?
It's just for AT&T, for a new store opening in Chicago. They came to me, and at first I told them, as a fashion designer, I was not going to put a picture of a dress on a phone, but I paint, and I think that would be more interesting. And they loved it. I love partnering and having new boundaries that I can create within. Just this past winter, I designed dance costumes for The Seldoms dance company, who just had a major production at the Harris Theater in January. Any time I have the opportunity for a collaborative effort, it's very exciting to take me out of what I do day-to-day, and transform what I do designing garments.
How long have you been painting, and do you sell any of your work?
I haven't sold it, but that's one of the reasons I chose to study at the Art Institute. I've always been an artist first, and fashion was my extension to use my creative talent, so to speak. I've always painted, there are several around my home that date to high school days.
Your last collection was spring 2010. Do you have plans for a new collection?
Yes, actually I'm planning to launch fall 2013. What I'm really excited about doing is narrowing my focus. It's going to be really relevant, anything worn in the day, probably not in the evening in this collection. I want things that have a modern, clean aesthetic. That's been incorporated in my past work, but now with a narrow aspect. I like this idea of editing and getting hard with oneself. This is the vision, and keeping it tight, which is harder in a 100-piece collection. In 25 pieces, every piece has a different significant relevance; it gets tighter and harder.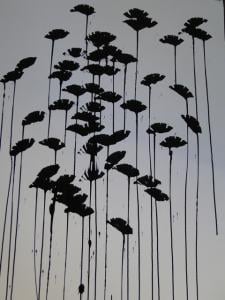 You've gained a lot of fame over the past four years for dressing Michelle Obama. What has that experience been like for you?
It's pretty amazing. The most exciting part with Michelle is that she really came to me for a wardrobe. I didn't know when she'd be wearing things, so it was always just as much of a surprise for me too, like when she wore the red dress to the White House. She's so normal, and just looks at her closet like. 'Today what do I feel like wearing?' I think she's really great for the country. She brings balance. She'll wear J. Crew and designer; not everyone can afford designer. She's more real, she's lovely.
Tune in to Chicago Tonight at 7:00 pm for a look inside the Fashion and the Field Museum Collection: Maria Pinto. The exhibit opens this Friday, September 14 and runs through Sunday, June 16, 2013.