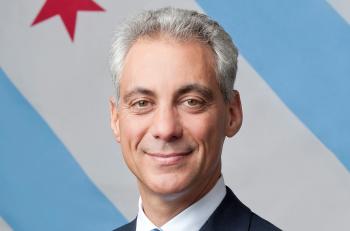 An ethics bill that would make it easier for the City Council's watchdog to investigate aldermen has been watered down in the face of an aldermanic revolt. Last year, the mayor introduced the ethics proposal that would allow the Legislative Inspector General to open investigations based upon anonymous complaints.
A revised ordinance distributed by the mayor's office to aldermen today modifies that provision, requiring any anonymous complaint directed toward City Council members or their staff to first be vetted by the mayor's handpicked Ethics Board. Current law requires a complainer to sign his or her name to a complaint, which can be a deterrent to people coming forward. Some aldermen say they don't like this revised version any better than the old one.
"An ordinance without the anonymous complaints would be acceptable," said Ald. Scott Waguespack (32nd). "With the anonymous, it's not."
The mayor's office says they revised the ordinance in response to aldermanic concerns, trying to stave off what could have been the mayor's first big legislative defeat. Other changes to the ordinance include harsher fines for anyone who files a false complaint, and a ban on anonymous complaints within sixth months of an election.
"The concern was the idea that the Legislative Inspector General could have no oversight and do whatever he wants," said Ald. Will Burns (4th), who, along with the mayor's office and Ald. Dick Mell (33rd), helped craft the changes.
"The changes now give the alderman cover," said Burns.
But the new ordinance is not likely to please three of the four mayoral-appointed Ethics Task Force members who spent months coming up with the tougher ethics rules that appeared in the mayor's original ordinance. The commission included Dawn Clark Netsch and Cindi Canary, the former head of the Illinois Campaign for Political Reform. (Ald. Burns was also a member)
"We made our report and stand by it," Canary said. "It's standard practice in every other city and state to allow anonymous complaints. All we can do is make a recommendation."
Ald. Mell, who will preside tomorrow over a vote on the revised ordinance in the City Council's Rules Committee, says he thinks the changes will win over a majority of City Council, even though many of his colleagues remain opposed to anonymous complaints.
"There are more people that would like to see it not there. But I've just got to get 26 votes and I'm hopeful I can," said Mell.
View the PDFs below to read the substitute ordinance, the highlighted changes, and the recommendations from the Ethics Task Force.