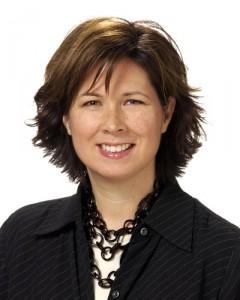 Sheryl Connelly is quick to admit she's not really a car person, unlike most of her colleagues at Ford Motor Company. So why has she spent the past 17 years of her career at the Detroit-based automaker?
For Connelly, the answer is simple: Ford allows her the rare chance to spend her days thinking about the future. Connelly is a "futurist," a job that's increasing common at major companies concerned about losing their competitive edge in a rapidly evolving economy. Her job is to look outside the auto industry at broad trends – political, economic, environmental, etc. – that Ford should understand in order to do business more intelligently.
"When I tell people I'm a futurist, I get a few smirks and giggles, and questions like 'Where's your crystal ball?' and 'So, what's the winning lotto number?'" says Connelly, a lifelong Detroitian who has degrees in finance, business and law.
In reality, the job fits quite logically into Ford's product cycle. Given the lengthy time span from idea to implementation – it takes three years to take a new vehicle to market – Connelly's job is to help Ford stay ahead of consumer trends, and project where they might lead down the road. Much of her work involves "scenario planning;" that is, brainstorming challenges Ford might encounter and obsessively planning for those potential outcomes.
In recent years, Connelly's team has "planned" for all of the following: the rise of China, "green" becoming an expectation in the auto industry, and carmakers slipping to the brink of bankruptcy – all of which have eventually come to fruition.
"[My] role is to try to imagine a future that's otherwise unimaginable," she says.
Right now, one of Ford's biggest challenges is that America's population – and thus consumer base – is rapidly aging, Connelly says. Elderly drivers will bring new problems to the roads: reduced response time, impaired vision, limited range of motion, and so on, forcing Ford to engineer and design around these problems.
Ford's solution? It starts with small improvements: rearview cameras for drivers who can't move their necks quickly or easily, reverse sensory systems, automatic blind spot alerts, advance collision warnings, etc. Ford even has a vehicle, currently only in Europe, with a heart rate monitor built directly into the seat – inspired by technology that's already existed on treadmills for years. The challenge is in weaving these elements seamlessly into existing designs.
"All of these features are designed, in part, to address aging populations," Connelly says. "But, at the same time, we want these features to be as meaningful to a 17-year-old as a 71-year-old."
And while Google wows the world with its self-driving car now in development, Connelly says Ford's focus lies elsewhere.
"Ford's not interested in entirely self-driving cars," she says. "We're interested in features that enhance the driver's engagement with the vehicle."
Connelly cites a feature called Active Park Assist, which can tell you whether your car can fit into a tight space and then do the parallel parking for you -- hands-free. Ford's also developing a car that can automatically take over for drivers moving slower than 25 miles per hour (i.e. maddening traffic, which is estimated to take up about 30 percent of a driver's time on the road.)
For Connelly, engaging with the future is key in order to build the right designs in the present.
"The end goal is not to predict the future," she says. "But we try to imagine the widest range of possibilities."
Connelly joins us on Chicago Tonight at 7:00 pm.