A brand new look for some of the oldest artwork at The Art Institute. We preview newly restored classical works from ancient Greece, Rome, and the Byzantine Empire on Chicago Tonight at 7:00 pm. Read a Q&A with the chief curator of the new exhibit and view a photo gallery.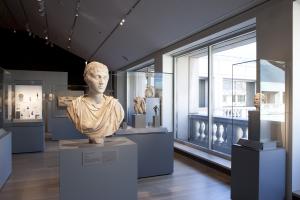 The Art Institute explores ancient art of the Mediterranean in the new Mary and Michael Jaharis Galleries of Greek, Roman, and Byzantine Art. The inaugural display, Of Gods and Glamour, tells the rich story of those who lived in the ancient and medieval Mediterranean world, displaying over 550 works, spanning 4,000 years of artistic achievement. The galleries include an inaugural special exhibition, unveiling 51 rarely seen works of art from the British Museum, many of which have never before traveled to the United States.
Chicago Tonight spoke with Karen Manchester, chair and curator of ancient art, Department of Ancient and Byzantine Art.
In these new galleries, there are more than 550 works on display; that's a tremendous undertaking. What was the selection process like for the installation?
There are 561 total works on display, and of those 360 are from our permanent collection, so a big challenge was finding the additional works on display. We had a giant courtyard to fill, so we could be creative in our approach. We borrowed a bunch of artworks from personal and institutional collectors. Fifty-one works come from the British Museum as a special exhibition, and we were very fortunate to get them. The timing was such that they were closing their galleries for renovation, and instead of putting them in storage, they lent them to us for nine months. Other works came from local museums, and a number came from private Chicago collectors. A lot of this really was Chicago-based.
What are some of the challenges that come with putting on an installation of this size?
The biggest challenge was we couldn't modify existing architecture, so we replaced floors and windows, painted walls, and replaced tile from the slanted ceiling. It seemed to me, perhaps the best thing we could do for the artwork and installation, was to ensure it was in beautifully manufactured display cases. For the first time, we worked with Goppion Museum Workshop based in Milan, and they produced exquisite display cases for us.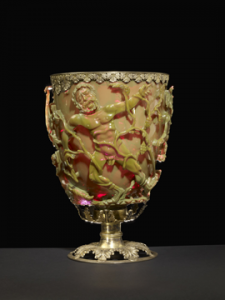 How will these galleries show some of the museum's permanent collection pieces in new ways?
One challenge with previous installations was that the artwork was grouped tightly together in display cases. With this installation, the number of cases increased so we had space to expand, allowing us to display individual pieces as opposed to packed groupings. Visitors can walk around almost all of them and see the artwork as a three-dimensional object.
Another challenge with a courtyard was ensuring that the objects sensitive to light were properly installed, using baffle walls and sinking pieces into the architectures to reduce the amount of light. These are real objects that are three-dimensional; you can't simply hang them on the wall. There's a variety of media, and we're dealing with 4,000 years of time.
The temporary exhibit features treasures from the British Museum. Did you visit the museum in London for the selection?
We did. I worked with a lovely Chicago couple, and they and I traveled to London around February 2011. We had preliminary conversations with colleagues there about the possibility of borrowing. There were negotiations back and forth. Our director spoke with theirs and they negotiated the final loan.
The British Museum was facing some of the same problems with their installation that we had, so we tried to collaborate on a way to display the pieces here that might help inform their reinstallation process. Their director came here and gave a talk during the Chicago Humanities Festival. He was ecstatic and pleased with the way we have displayed them.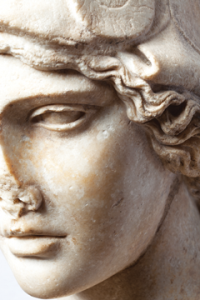 And what pieces were you particularly interested in for this exhibit, to complement the other three galleries?
Primarily, we were looking very broadly, covering a broad chronological span across three continents. When we heard their Byzantine gallery was closed, we got excited because we have very little Byzantine in our own collection. This was an extraordinary opportunity for us to show a full chronological span from the third millennium B.C. to first millennium A.D. Once it leaves, we won't have it ever again.
Is there anything else that you would like to add about the galleries?
The north side of the gallery is the Greek side, displaying Greek art, and it was closed off while installing. We were placing objects in the display cases and they were all wrapped in brown paper because we promised the donors that they would be the first ones to see the installation. We left a few objects unwrapped as little teases, but two nights before the gala, we had to remove the paper to light the display cases properly. This was the first time I saw the installation; 25 months working on it and this was the first time I had seen it all! It brought tears to my eyes at how it looked. You never know with seeing everything relative to other objects, especially with three-dimensional pieces, to make sure they talk with each other properly. And I was stunned.
*This interview has been condensed and edited.