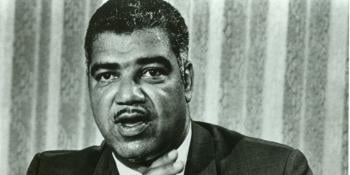 Of all the civil rights leaders in the "Big Six" – Martin Luther King Jr., John Lewis, James Farmer, A. Philip Randolph, Roy Wilkins and Whitney Young – arguably it was Whitney Young who had the most unorthodox approach to civil rights work.
Intent on economic empowerment, Young thought the best way to achieve equality was to carve out more space for blacks in corporate America. To do this, he forged close relationships with some of the country's most powerful white executives – at Pepsi, TIME, Ford, and so on – drawing sharp criticism along the way. He was called an "Uncle Tom," slammed for wining and dining with the very people thought to be perpetuating racial hierarchy in America.
Still, few can deny Young's influence. He helped organize the March on Washington. He led the National Urban League, where he pushed business leaders to hire more blacks; at the height of his influence, he placed 40,000 blacks in jobs in a single year. He became a trusted advisor to President Lyndon B. Johnson, brainstorming ideas that were eventually woven into Johnson's War on Poverty. He led the National Association of Social Workers, calling on professionals in the field to do more to address the social welfare of black and poor Americans.
All this before his life came to an abrupt halt; at 49, Young drowned while on a trip to Lagos, Nigeria. President Richard M. Nixon delivered the eulogy at his funeral, saying Young "knew how to accomplish what other people were merely for."
On Feb. 18, 2013, this forgotten icon gets a second look when The Powerbroker: Whitney Young's Fight for Civil Rights airs on the PBS series, Independent Lens at 9:00 pm on WTTW11.
We spoke with executive producer Bonnie Boswell about the challenge of telling his story. Boswell has unique ties to the subject; she's the niece of the late Whitney Young. Read our Q&A below.
What motivated you to look more closely at your uncle's life for this film?
He was a behind-the-scenes player, and wasn't that well-known. But I think negotiators are pivotal. He was the guy, at that period, who was the bridge between black and white, and rich and poor. He introduced Wall Street to Main Street.
At the time, there were no black people in corporate America by and large, if at all. The civil rights movement was about equality – but he put the bones to that.
What kind of relationship did you have with him?
When I was a little girl, my parents sent me to spend Christmas with him in Atlanta. I remember him waiting for me. He was very big. I felt safe with him. But I didn't understand his national profile at the time.
As a college student at Tufts, I became very involved in the Black Power Movement, as was typical of my generation. We had different perspectives on things during that time.
When I got an Afro, he quizzed me on that. He wasn't so happy about that. He didn't want me getting involved in the wrong crowd.
Just before he died, he wanted to have lunch with me. His secretary made the appointment. After his death, I remember coming home from all the funeral services. I didn't have a lot of personal time to unpack my feelings – it was a whirlwind. I got back to my dorm and erased the lunch appointment. It was a big moment for me.
Whitney Young is hardly a household name. Why do you think that is, given how influential he was?
He played a unique role in the movement. His work was in the halls of Congress and in the corporate boardroom. In general, we tend to not look at or value people who do behind-the-scenes work.
He also played a role in keeping the inner circle of the civil rights movement united at crucial moments. He had different skill sets than others, since he was a social worker. He was there to get things done and keep people at the table. I think we need more bridge-builders like him today.
If he was still alive today, what do you think he would say about how far African Americans have come in the business world?
A tremendous amount of progress has been made. We accept the ability of people of color to have positions of authority and respect. But having said that, there still needs to be a great push across the board at every level – from lower management on up.
If you don't have an educational feeder system that helps people move forward and get good jobs, you'll end up flat on your face. I think he'd be very concerned about education, health care, the social safety net, etc.
People forget that the civil rights movement was not just about race. It was about democracy.
Boswell joins us on Chicago Tonight at 7:00 pm. Watch an extended trailer of the film below.