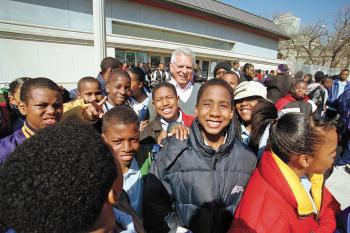 Lands' End founder Gary Comer dedicated much of his life to revitalizing his childhood home: Pocket Town, in Greater Grand Crossing. How much good has his $86 million (and counting) done? 
When Comer was growing up in the 1930s, Pocket Town was a working-class, immigrant neighborhood. It was in the midst of the Great Depression, so it was not a wealthy neighborhood, but once Comer built his fortune, he learned of how the neighborhood had deteriorated. Fifteen percent of Pocket Town residents were in poverty, and 25 percent were unemployed, according to Elly Fishman, who profiled Comer's philanthropy in Chicago magazine.
Comer began by trying to rehabilitate his old elementary school--Paul Revere Elementary--in 1999, but he soon realized one school's performance was closely linked to wider issues:
Comer's hugely ambitious quest contains elements of both the Kalamazoo Promise (a Michigan philanthropist's pledge to pay for college for all local kids who graduate from public high school) and the Harlem Children's Zone (an urban renewal program that provides an assortment of "cradle-to-career" services for children and families in New York City's Harlem neighborhood.) The plan he eventually hit upon was to address the interconnected problem facing Pocket Town's residents: poorly performing schools, as well as issues like substandard housing and inadequate health care.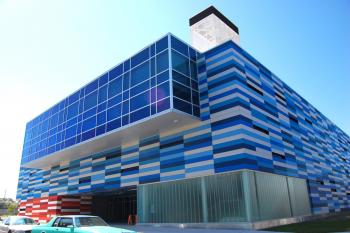 His foundation would eventually found a charter high school, youth center, health care system and affordable home project, and play a part in a new library. Though Comer died in 2006, his family has taken over his foundation and is dedicated to continuing his efforts. Fishman, an assistant editor at Chicago magazine, says while there have been a number of successes, the scope of the project is still an obstacle.
"You would think focusing on such a small neighborhood would mean you would more likely yield good results. But it can be harder," Fishman says. "It's a lot to ask a small community to totally change, especially when it's nestled into the larger, blighted South Side. A lot of Grand Crossing is leaning on this tiny, 15-block neighborhood. And it's too much. Every kid wants to use the Youth Center, or the health facility, because there are few great resources there."
Fishman explores the effects of the foundation's work in her piece, and will discuss how it's money has been put to use on Chicago Tonight at 7:00 pm.