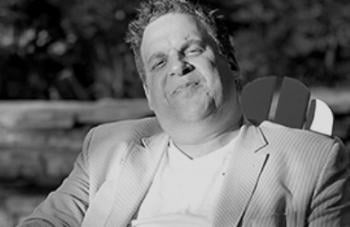 Chicago-born native, comedian, actor and director, Jeff Garlin, returns to the Windy City for his second run at Steppenwolf Theatre Company.
In 2011, Garlin performed his stand-up comedy show, No Sugar Tonight, in which he talked about his weight battle and addiction to sugar.
Garlin is back for a limited run at Steppenwolf (Dec. 4 – 16) for his new show, Closer Than I Appear.
He joins us on Chicago Tonight at 7:00 pm with his mother. It's an interview you won't want to miss!
Watch our web extra video of Jeff Garlin here.
Chicago Tonight spoke with Steppenwolf's Artistic Director, Martha Lavey, about why Garlin is a good fit for the theater's selections.
This is Jeff Garlin's second run at Steppenwolf. Why did the theater decide to have him back?
Because he's so fantastic. I wasn't able to see him last time, interestingly enough. I was in a show at the same time and all our performances coincided, so I couldn't see him, which was a drag. The only time I got to see him perform was back when he was doing, I Want Someone to Eat Cheese With at the Live Bait Theater years ago, and I loved him. He's tremendously funny and the audience loves him, he's good to work with. He's a total Chicago guy and he's very talented.
How does Garlin's stand-up comedy routine, that's more casual and improvisational, fit into what Steppenwolf Theatre does?
We have various people who come on a one-off basis. Our programming is eclectic and when we bring someone in, it's more the feeling of what their connection is to the audience. In general, at Steppenwolf, we have a loyal and close audience who enjoy a wide variety of stuff. They're critical thinkers and culturally engaged, and we want to give them a menu of diverse offerings and Jeff provides that. It's his spontaneity and tremendous wit. I think audiences like the fact that it feels improvisational and relaxed, and feel his rapport with them is authentic.
Why do you think Steppenwolf is a good venue for him to perform, as opposed to a stand-up comedy club?
His relationship with the audience can be very specific and intimate, and feels comfortable. That's the other neat thing too, he really started in theater. I saw him in a tiny theater, and now he has a jumbo platform for his work, but I think he likes to come back to theater and be in a relationship with people who are really there specifically for him. We like that, and he does too.