Chicago Sun-Times Theater Critic Hedy Weiss joins us on Chicago Tonight at 7:00 pm to review the Tony Award-winning War Horse, the Tony-winner Book of Mormon, and two more shows currently on local stages.
War Horse
Based on the children's novel by Michael Morpurgo , War Horse is a remarkable tale of courage, loyalty and friendship. Set in England in 1914, the story follows Joey, a Bay Thoroughbred belonging to a teenage boy named Albert. Albert is heartbroken after his beloved horse is sold to the cavalry and shipped from England to France. Too young to enlist in the army, Albert embarks on a dangerous journey to find Joey. This moving literary work makes a dramatic entrance on stage complete with life-sized puppet horses, strong enough for men to ride. The musical is on an international tour, making a visit to the Cadillac Palace Theatre in Chicago until January 5. Tickets range from $30-$105.
Cadillac Palace Theatre
151 W. Randolph St.
Chicago, IL 60602
School for Lies
A clever new adaptation of Molière's The Misanthrope, School for Lies infuses a 17th-century comedy of manners with contemporary humor. Frank, a poor Frenchman, is known for being brutally honest. In a visit to a chic salon, Frank tries to demonstrate to his new friend Philinte how lying is evil, by starting a rumor that Philinte dresses in women's clothes. Seeking revenge, Philinte tells a woman named Celimene that Frank is connected to royalty and quite influential. Celimene then tries to get closer to Frank hoping he can help her in a slander case that stands to ruin her reputation. When Philinte tells Frank that Celimene loves him, he decides to love her back. An unusual romance ensues involving plenty of misunderstandings and comic tug-of-wars. The play runs through January 20 at Chicago Shakespeare's Courtyard Theater. Tickets range from $58-$78.
Chicago Shakespeare's Courtyard Theater
800 E. Grand Ave.
Chicago, IL  60611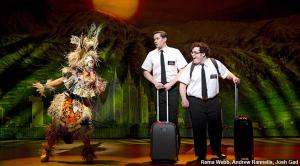 The Book of Mormon
From the creators of South Park comes the highly acclaimed musical, The Book of Mormon. The smash-hit Broadway musical is beginning a 6-month run at the Bank of America Theatre. In the Chicago cast, Nic Rouleau plays Elder Price, an idealistic 18-year old missionary for The Church of Jesus Christ of Latter-day Saints. He embarks on a mission to convert tribes in Uganda, along with the dim Elder Cunningham, played by Ben Platt. Winner of 9 Tony Awards including Best Musical, The Book of Mormon is being hailed as the funniest, wittiest, best-directed musical on Broadway in a long time. Filled with comedy, profanity and even sweetness, this musical holds nothing sacred, nor anything back. Best to leave the kids at home for this one. The musical is playing at the Bank of America Theatre until June 2 and tickets range from $45-$115.
Bank of America Theatre
18 W. Monroe St.
Chicago, IL 60603
The Other Cinderella
A Black Ensemble Theater classic, The Other Cinderella has been returning to the theater every other year since 1976, each time with new surprises. The musical retells the famous fairy tale with an Afro-centric twist. There's still a King, a Queen and a Prince, but there's a "Stepmama" who works at the post office, two stepsisters who "don't do nuthin'," the brothers are from the 'hood, Cinderella was born in the projects and the "fairy Godmama" is from Jamaica. This heartwarming story is full of original music and dancing, appropriate for all ages. The show is now playing through January 13. Tickets are $65.
Black Ensemble Theater
4450 N. Clark St.
Chicago, IL 60640