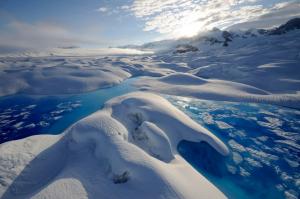 Chasing Ice
Acclaimed environmental photographer James Balog tells the story of the Earth's changing climate in his new documentary, Chasing Ice. Inspired by a trip to the Arctic in 2005 for a National Geographic assignment, Balog decided to gather evidence of our changing planet. He began deploying revolutionary time-lapse cameras across the Arctic to capture the world's changing glaciers over a period of four years. His hauntingly beautiful videos compress years into seconds, capturing ancient mountains of ice in motion. Chasing Ice has won 23 awards at film festivals around the world, including Sundance Film Festival's Excellence in Cinematography Award: US Documentary and the Environmental Media Association's 22nd Annual Best Documentary Award. The documentary will finish running at the Music Box Theatre December 4, and now begins a week-long showing at Cinemark Century 12 in Evanston.
Music Box Theatre                                                             Century 12 Evanston/CinéArts 6 and XD         
3733 N. Southport Ave.                                                   1715 Maple Ave.                                                                   
Chicago, IL 60613                                                              Evanston, IL  60201                                                        
ZooLights
See the Lincoln Park Zoo dazzle with over two million decorative lights. Take photos with Santa, make some holiday crafts and enjoy live ice carving demonstrations -- all at this free event. And the first 1,000 people each night will receive a free pair of 3D glasses. ZooLights will continue every weekend until December 26.
Lincoln Park Zoo
2001 N. Clark St.
Chicago, IL 60614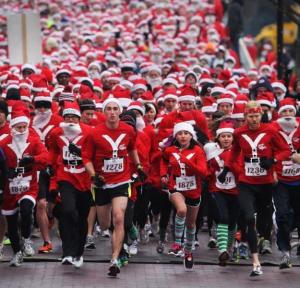 Santa Hustle 5K
Take advantage of the warm weather this weekend, and contribute to a great cause at the Santa Hustle 5K.  Runners and walkers are given Santa beards, hats and a customized dri-fit shirt to wear while running. All proceeds go to Variety Children's Charity, which works to improve the quality of life for kids who are mentally and physically challenged, abused, sick, homeless or underprivileged. Come join thousands this weekend, and if you need a little motivation to get out there, cookies, candy and Christmas music will be along the course. Come support the runners or join them—it's not too late to register! In-person registration is available today till 8:00 pm at Fleet Feet in Old Town. The race starts at 9:00 am on Saturday at Soldier Field, and registration is $45.
Soldier Field
1410 S. Museum Campus Drive
Chicago, IL 60605
Winterfest
Kick off the holiday festivities with Roscoe Village's Winterfest. Celebrate Saturday with the annual tree lighting ceremony, along with live music, caroling, sleigh and trolley rides and more. Then visit Santa on Sunday, make a gingerbread house, and top it all off with the holiday tunes and dance party. This family-friendly event is free. Hours are Saturday 5:00 pm – 9:00 pm and Sunday, 1:00 pm – 5:00 pm.
Roscoe Street and Damen Avenue
Chicago, IL 60618