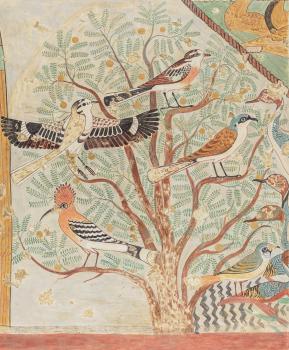 Mummies and pyramids may be the most common images from ancient Egypt, but a new exhibit at the University of Chicago is focusing on something just as important to Egyptians' everyday life -- birds.
"People think they know about Egypt. But there's this whole other side to ancient Egypt," says Jack Green, chief curator for the Oriental Institute at the University of Chicago. But birds "were really integrated into the natural environment, and this tied into their religion. Their religion is filled with symbolism—there are so many symbols in hieroglyphics that are bird-related."
The Nile Valley was at the nexus of bird migration pathways, meaning the area was flooded with birds twice a year. The flocks became synonymous with Egyptian religion, with several gods being portrayed as birds, and bird mummies a key in religious offerings. 
"People were looking around and birds were seen as supernatural because of their flight...In the belief system, bird mummies are common," Green says. "Through mummification, the bird could come back to life and fly back to the gods and send a message."
Green joins us on Chicago Tonight at 7:00 pm. Watch the exhibit's curator showcase some of her favorite artifacts in our web extra video, and view an image gallery below.